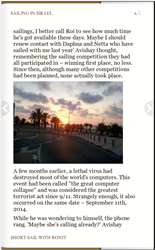 (PRWEB) August 21, 2014
Two new products from Helicon Books — "EPUB Preview" and "Createpreview" — allow digital book store owners and publishers to display a preview of an EPUB file in an online viewer window or create a shorter version of the book for an eBook version.
The new online Preview invented by Helicon Books enables the display of a reader-like window allowing users to page through the first few chapters of a book.
The EPUB preview reads the original book. The publisher can dictate the number of chapters to display and the software will automatically present them, preserving the structure of the original eBook. The process is easy, intuitive, and saves the time and resources of the online book store manager.
The EPUB Preview works in any standard browser supporting JavaScript.
EPUB Preview uses Helicon Books' secure social DRM server. When uploading a book to the server, the user can specify the number of chapters (files) for preview. After uploading, the store owner receives a simple JavaScript code that can be implemented in any website, or even on a Facebook page using iframe.
The JavaScript code displays a clickable button which opens a new small browser window with an embedded EPUB reader. This reading application is limited to the specified number of chapters. The content itself is fed through the server and thus it is impossible to access any content other than what the store manager intends to display.
This product is easily implemented in any website.
The second product, "Createpreview," is a free open source tool which creates a preview eBook. This product creates a new preview version of the book with a specified number of chapters and allows the customer to download and preview the book before purchase. Publishers and eBook store managers will no longer have to spend lots of time creating custom individual demo versions of each book. This new preview eBook conforms to the International Digital Publishing Forum's new recommendations for EPUB preview.
Helicon Books will present their products in October at the world's largest book and media fair, the Frankfurt Book Fair in Frankfurt, Germany, at Hall 8 F46. For more information on Helicon Books products and services, visit http://www.heliconbooks.com/
About Helicon Books 
Helicon Books is a technology and services company assisting publishers with introducing and adopting advanced technologies for digital Books. Helicon Books provide conversion services as well as tailor-made software for publishers, online readers and reading applications for Android.