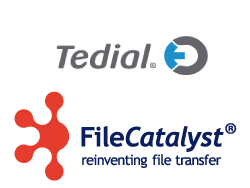 Ottawa, Canada (PRWEB) September 05, 2014
Unlimi-Tech Software, Inc., a pioneer in managed file transfers and the creator of FileCatalyst, a world leading accelerated file transfer solution, is pleased to announce a partner agreement with Tedial, a leading independent media asset management (MAM) technology solutions and media IT specialist.
Tedial provides broadcasters and global media companies with unique media IT solutions across the entire workflow, significantly increasing creativity and improving efficiency with multisite media management and business-driven processes.
With more than 50 high-profile reference sites worldwide, including some of the largest and most complex MAM systems in the broadcast industry, Tedial's IT media enterprise solutions coordinate staff and workflow to streamline production, packaging and publishing of content for any audience.
With headquarters in Spain and an office in Dubai Tedial has a proven track record spanning more than ten years. The company's highly flexible and reliable software MAM and workflow orchestration platform significantly improves workflow efficiency between multiple locations and platforms.
By integrating FileCatalyst technology, Tedial increases its list of third-party integration components. As media sizes increase exponentially, traditional methods of file transfer such as email or FTP become very slow or unreliable, particularly across large distances. However, FileCatalyst's unique, patent pending UDP-based protocol is immune to network impairments such as latency and packet loss and accelerates file transfers regardless of size or format, resulting in transfers that take minutes instead of hours or days. By leveraging the various FileCatalyst tools, Tedial offers a fully automated end- to- end file- based workflow without compromising on speed.
"Partnering with Tedial to offer accelerated file transfer through their solutions is a great fit," said Alan Atkinson, Vice President of Business Development at Unlimi-Tech Software, Inc. "The files managed by Tedial are large in nature and require acceleration to meet the ever-increasing workflow requirements of today's media and broadcast companies."
About Unlimi-Tech Software, Inc.
Located in Ottawa, Canada, Unlimi-Tech Software is the creator of FileCatalyst, a world leading accelerated file transfer solution. Founded in 2000, the company has more than a thousand customers in media & entertainment, energy & mining, gaming, and printing, including many Fortune 500 companies as well as military and government organizations. FileCatalyst is an Emmy Award winning software platform designed to accelerate and manage file transfers securely and reliably. FileCatalyst is immune to the effects that latency and packet loss have on traditional file transfer methods like FTP, HTTP, or CIFS. Global organizations use FileCatalyst to solve issues related to file transfer, including content distribution, file sharing, and offsite backups. To learn more visit http://www.filecatalyst.com or @FileCatalyst on Twitter.
About Tedial
Tedial provides software based content and content management business solutions that maximize operational efficiency and profitability to broadcast and other media organizations. Tedial has over ten years' experience and has grown to over 80 people; our proven track record enables broadcasters to take full advantage of file-based workflows, cloud computing and other technologies with minimum risk and maximum benefits.
Tedial's solutions are vendor and hardware independent, releasing customers from proprietary constraints and enabling them to significantly increase productivity and return on investment. Tedial is a global company with over 50 high-profile reference sites around the world, including some of the most complex and largest MAM systems in the broadcast industry.
Tedial's unique media management solutions have helped over 50 broadcasters and media companies worldwide to increase creativity and improve efficiency throughout their media workflows. For more information, please visit http://www.tedial.com.