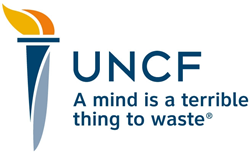 Dayton, OH (PRWEB) August 20, 2014
UNCF is proud to announce that Dayton Mayor Nan Whaley will host its 2nd annual UNCF Mayor's Breakfast on Friday, August 29, 2014, at The Sinclair Conference Center. The luncheon will bring together 250 Dayton area business, civic and education leaders to support UNCF's work to create a college ready culture that provides students with the support they need to get to and through college. The estimated $30,000 in proceeds will provide critical financial support to minority students from throughout the region.
In addition to Mayor Whaley, Xenia Mayor Marsha Bayless, Trotwood Mayor Joyce Sutton Cameron, Cincinnati Councilwoman Yvette Simpson and Montgomery County Commissioners are scheduled to attend the Luncheon—highlighting the critical importance of building a robust pipeline of college-educated African Americans.
UNCF supports more than 350 students in the Greater Dayton area. In addition UNCF supports more than 10,000 scholarships per year under more than 400 programs to students at 900 colleges and universities across the country.
For more information on the Dayton UNCF Mayor's Luncheon, please contact UNCF at (614) 221-5309 or via email at: natalie.coles(at)uncf(dot)org.
WHO: UNCF (United Negro College Fund)
WHAT: 2nd Annual UNCF Mayor's Luncheon
WHEN: Friday, August 29, 2014
11:30 AM – Networking/Registration
12:00 PM - Luncheon
WHERE: Sinclair Conference Center – Charity Early Ballroom
444 West Third Street
Dayton, OH 45402
About UNCF
UNCF (United Negro College Fund) is the nation's largest and most effective minority education organization. To serve youth, the community and the nation, UNCF supports students' education and development through scholarships and other programs, strengthens its 37 member colleges and universities, and advocates for the importance of minority education and college readiness. UNCF institutions and other historically black colleges and universities are highly effective, awarding 20 percent of African American baccalaureate degrees. UNCF administers more than 400 programs, including scholarship, internship and fellowship, mentoring, summer enrichment, and curriculum and faculty development programs. Today, UNCF supports more than 60,000 students at over 900 colleges and universities. Learn more at http://www.uncf.org.