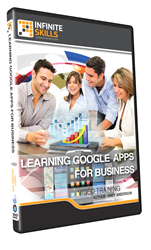 Learn Google Apps for Business at your own speed.
(PRWEB) August 21, 2014
Software training firm Infinite Skills Inc. this week introduced its "Learning Google Apps for Business," a beginner-level course designed for anyone interested in learning to use the suite of cloud-based apps to organize their professional life.
Google Apps for Business is a collection of apps that allow users to plan, work, and communicate within the Google cloud environment. The service provides cloud-based storage, virtual conference rooms, and document collaboration, along with many other customizable apps that provide an easy-to-use platform for synchronizing business communications.
Infinite Skills' "Learning Google Apps For Business Tutorial" is designed to help new users get started with the essential applications, explaining best practices and configuration, and helping professionals begin taking advantage of all that working in a cloud-based environment has to offer.
Learning Google Apps for Business Tutorial - Streaming
Course author Andy Anderson is a veteran trainer at Infinite Skills and an expert in a variety of popular software, including the Microsoft Office Suite, Apple OS X and iOS, and the Adobe Creative Cloud. He is a career photographer, professor, and graphic designer, with decades of commercial and artistic publications to his credit, and he uses Google Apps for Business to organize his diverse professional life.
Following an introduction, Anderson begins by explaining how to set up your account, add and configure users, and control Google App services.
He then dives in with Gmail, explaining how to manage your inbox, format mail, and organize Gmail with stars and labels, as well as filters and rules.
Andy then covers the Contacts and Calendar applications, explaining basic usage and sharing, as well as how to use the Contacts task features and the Calendar lab.
The course then explores Google Drive, the cloud-based storage and office application platform, where users can work with and share documents, presentations, and spreadsheets directly on the cloud or download versions for work on a local drive.
Other chapters cover Google Groups and working with Google Admin options.
"Google Apps for Business is amazing," Anderson says. "Any time, any place, anywhere, you can share documents and make changes to documents. Total organization, that's what Google Apps for Business is."
"By the time we're finished, you'll have a good understanding of the basics, what Google Apps for Business is and what it does, and how it can improve your business. In terms of business communications, believe me, this is where you want to be."
Free demo videos and a full list of course contents can be found on the "Learning Google Apps for Business" training page on the company website: http://www.infiniteskills.com/training/learning-google-apps-for-business.html.
Infinite Skills offers its Learning Google Apps for Business in DVD format or as a direct download from the company website at a retail price of $49.95. The course is also available as part of Infinite Skills' subscription service offered at a rate of $25.00 per month. All titles and formats are compatible with Mac and Windows operating systems. Shipping is available around the globe. Additionally, Infinite Skills tutorials are supported by project files which correspond to examples in the videos, allowing users to work alongside experienced instructors right on their computer or iPad.
About Infinite Skills Inc.
A leader in the field of software training, Infinite Skills designs its courses on a task-oriented model, teaching complex skills by providing hands-on examples and guiding users as they carry out essential functions. Infinite Skills offers a wide range of software titles available as DVDs, digital downloads, and in iPad editions. Infinite Skills now offers a subscription service, providing access to all its training content for a monthly fee, keeping with company's aim of delivering professional training to customers anywhere they want to learn.