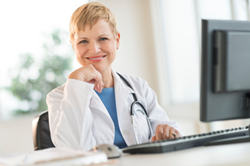 In MEDSEEK, we found a company who both specializes in influencing patient behavior and have robust tools to help our clinicians succeed in care management. - Connie Richardson, Director of Operations, ASPA.
Birmingham, AL (PRWEB) August 20, 2014
ASPA (Arizona State Physicians Association), one of the oldest and largest Independent Physician Associations in the country, has selected MEDSEEK Navigate for their care management technology to help pinpoint at-risk patients and engage them in their health.
When researching a population health solution, top concerns for ASPA included data integration, full care management functionality and clinician workflow capabilities. "We knew when we began our vendor selection process that it would be a challenge to distinguish between who had the depth of technologies we needed, from those vendors who may have ideas for population management but lack the concrete technology to help us make a tangible difference," said Connie Richardson, Director of Operations, ASPA. "In MEDSEEK, we found both a company who specializes in influencing patient behavior and have robust tools to help our clinicians succeed in care management."
ASPA selected MEDSEEK Navigate based on the solution's capabilities to help them:

Identify and stratify high-risk and rising-risk populations for specific conditions
Create evidence-based care plans based on industry-standards
Manage care team workflow and documentation to help care team members make fully informed decisions at the point of care
Measure and report health care quality with performance metrics, data collection processes and statistical analysis
Enhance patient engagement and positively influence patient behavior by leveraging an integrated enterprise patient portal and multi-channel marketing technology in the future
"Patients can easily move away from adhering to their care plan, when their providers do not have the right operational processes and technology in place to support their efforts," states Connie Richardson, ASPA. "With a comprehensive care management technology in place, our providers will be able to more effectively, consistently and proactively help patients improve and maintain their health."
In addition to longer-term goals, it was important for ASPA to select a fully evolved solution like MEDSEEK so they can be implemented and well-prepared to meet the Medicare Shared Savings Program participation deadline of January 1, 2015. "We knew that to successfully meet the program deadline, we needed to act now to get the right technology and resources in place," states Ms. Richardson. "ASPA providers will be ready and ahead of the curve to healthier patients and meeting the Medicare Shared Savings Program."
"At MEDSEEK, we understand that without data and the tools to interpret and act on that information, you cannot truly affect patient health," said Peter Kuhn, CEO, MEDSEEK. "It is critical that we deliver the in-depth functionality healthcare organizations need to educate, engage and support their patients in making actionable changes for better health."
"It was critical for ASPA to find a vendor that combined true industry expertise with the ability to understand our clinical, technical and financial needs," states Ms. Richardson. "MEDSEEK is truly aligned with ASPA's vision to grow while delivering higher quality of care."
For more information about MEDSEEK Navigate or the overall Influence platform, visit us at http://www.medseek.com or contact us at 888.MEDSEEK.
About ASPA
ASPA was incorporated in Arizona in 1986 as a physician-owned cooperative. It currently has more than 2,400 members who have completed a rigorous credentialing process. ASPA is unique among Independent Physician Associations because of its longevity, size, and the number of individuals that may use IPA providers. Members include all major physician specialties, physical therapists, psychologists and other health care providers who practice throughout Arizona.
About MEDSEEK
Since 1996, MEDSEEK has focused exclusively on building software to help hospitals and health systems virtually influence prospects and patients before and after a physical encounter. Today, the MEDSEEK Influence platform integrates web, mobile, social, predictive analytics and relationship management solutions to help organizations drive profitable volume, improve individual and population health, increase patient satisfaction and create lasting health-related loyalty. Birmingham, AL-based MEDSEEK is proud to serve more than 200 customers representing over 1,000 hospitals – including many of the top hospital systems in the United States and Canada.