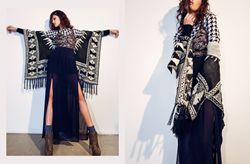 LOS ANGELES, Cali. (PRWEB) December 15, 2014
Online women's fashion retailer GoJane recently unveiled its latest lookbook, a collection of dresses in all styles for all occasions. From party-ready mini dresses to casual maxis, the "Frock On!" collection includes dresses for both day and night. Like all of GoJane's clothing, the items in the "Frock On!" collection are available for affordable prices that are accessible to the fashion-forward young woman on any budget.
Shirtdresses are some of the most popular dress styles this season, and GoJane offers a wide variety that feature button-down fronts and pressed collars. "We love shirtdresses because you can pair them with tights and boots when it's cold outside, but you can just as easily wear them with bare legs and sandals in the spring and summer months," said GoJane blog editor Malinn Cisneros. This collection includes shirtdresses in flannel, denim and a number of other casual materials.
For something a bit more sophisticated, the "Frock On!" collection also offers great deals on slim-fitting bodycon dresses for special occasions. While bodycon dresses from the past few seasons featured thigh-grazing hemlines, the current options have longer, retro lengths with the same curve-hugging shapes. These dresses also come in styles with cutout details, lace overlays and asymmetrical skirts.
Fans of the boho look will also love GoJane's floor-length maxi dresses, which are made in 1970s-inspired prints and patterns. Some feature loose, flowing skirts and plunging necklines, while others offer trendy side slits that extend all the way up the torso to pair with leggings or jeans.
GoJane's "Frock On!" lookbook contains all of the same dress styles as expensive designer brands, but its price points are more accessible to young women of all ages.
GoJane is an online retailer of fashion-forward apparel for progressive young women. The website offers all of the latest trends in clothing and accessories for a fraction of the cost of designer brands. GoJane's helpful customer service team is available five days a week, and their 30-day return policy makes finding the right size fast and easy.