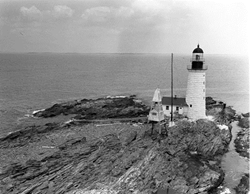 Harpswell, Maine USA (PRWEB) September 02, 2014
This little fishing village in Maine has a BIG lighthouse challenge!
Can a small town of less than 4,000 people in Maine help keep a federally abandoned surplus Maine lighthouse ownership within the town? Well, maybe it can by using Kickstarter and asking everyone to help!
There are only ~30 privately owned lighthouses in the USA according the Federal Government, so this is a rare opportunity to get one for all of us. This is a once in a lifetime chance for anyone to "own" and crowd share a Maine Lighthouse – Halfway Rock Lighthouse. It is an opportunity for all the community and the social network community to rally together and help create a unique marine "edu-tainment" system with the light.
A Harpswell resident along with a small team has launched a new Kickstarter Project – Own A Maine Lighthouse to rally enthusiasts around the sharing of a real Maine Lighthouse – Halfway Rock Lighthouse. They have already begun their draft web site http://www.beaconkeepers.com ready once they win the bid (with everyone's help and a lot of everyone!).
Bob Muller is one of the team members and lives in Harpswell. He says, "Although potentially out- gunned by other bidders, we have to give it our best shot. We have to try and win the bid and make this historical project happen!" He goes on to say," it only takes one person truly interested in our cause, to support us in a big way. One special person who wants to help see this project succeed. We hope they are indeed out there"
The team has made it so easy to get involved and give as little as $15, a onetime fee. The awards include: a 3D printed model of the lighthouse, a map and guide to every lighthouse in Maine and for some higher awards, fresh Maine Halfway Rock Lobster. Folks also receive their own personalized virtual deed to the lighthouse. Some limited awards have a weekend or week- stay at a local B&B or Inn – all provided by Harpswell fishermen, Inns and businesses.
This team has a well thought out plan to make the lighthouse available to every child, family and scientists as an "edu-tainment" beacon. The unique project is to acquire, repair, conserve, preserve and re-purpose this badly neglected rocky island light ~5 miles out to sea.
The goal is to create a fully sensorized/gadgetized permanent marine station using the lighthouse so that kids, families and scientists from anywhere in the world can "live in a lighthouse" and see a comprehensive dashboard of all the buoys, gauges, underwater cams and night- vision cams. It will take a while to outfit the area with all the appropriate sensors and get advice from world- renowned marine science organizations. Once completed it will help educate and entertain people while helping to preserve our oceans. Maybe, as technology advances, it will evolve into an immersive 3D experience too. And, "maybe there will be an App for that!"
Once the lighthouse is acquired, Beacon Keeper Virtual Lighthouse Stewardship Deeds will be available on http://www.beaconkeepers.com. As a condition of sale, each purchaser must select one of many marine-centric non-profits for us to donate money to. Or, the purchaser can type in a certified qualified non-profit. Either way no sales occur without selecting the non-proift.
How would you like to sit back and relax watching the storms roll in and listening to the sounds of the seals, birds and waves? Romantic, true, but don't plan on making any phone calls or saying hi to friends on Facebook just yet! -- not until this team has a chance to create a "wired communication plan and network of sensors".
Go to http://www.beaconkeepers.com, look around and then click the Kickstarter button for more information. There is a very cool hexacopter flyover included on the Kickstarter-Own A Maine Lighthouse.
Mr. Muller says … "this is a fast short race to capture the bid and stay ahead of all the other bidders. We have a plan and are unaware of other bidders plan. They haven't said.
This race depends on all the people out there. Are they willing to give it a try and act very fast?"
The GSA auction closes on or shortly after 21-Aug-2014, the day of the registered site visit. It literally is expected to close in a few days.
Mr. Muller will be going for what he calls "a glorified home inspection" for a lighthouse on Thursday. He was advised to bring goggles & mash (due to guano) and might want to bring earplugs too (actually, the seal and birds are louder than the directional horn).
Graves Light in Boston sold last year for almost a million dollars. Boone Island Lighthouse, in York, Maine just sold on Sunday for $78,000. No one knows what it will take to win the Halfway Rock Lighthouse bid but it is expected to sell for at least the price of Boone Island Lighthouse.
PS: Harpswell, Maine is a working fishing village in Midcoast Maine. It has a population of ~4,200 increasing to ~5,000 in the summer. It has more coastline than any city in the country and has nine working fishing harbors. It has ~216 miles of shoreline on Casco Bay making up more than 1/3 total of all Casco Bay shoreline. Casco Bay, Gulf of Maine is the 15th largest fisheries in the world. Halfway Rock Lighthouse has been watching over the bay and mariners for more than ~140 years. It's a cool lighthouse on a small rocky island – all alone 5 miles out.
It's our turn to help it.