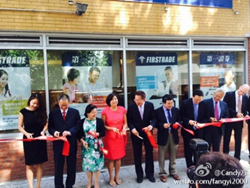 Queens, NY (PRWEB) August 22, 2014
Firstrade welcomed more than 100 guests at the grand opening of its branch and new headquarter location. The ribbon cutting ceremony was held at the new branch on Friday, August 15, 2014. US Congresswoman Grace Meng and NYC Councilman Peter Koo were present.
"At Firstrade, we are constantly thinking how to best service customers. Opening a branch office is the next logical step in Firstrade's expansion and growth plan." said John Liu, CEO of Firstrade. "We chose a location that was conveniently and centrally located in the heart of Flushing's bustling Main Street."
Firstrade's Flushing Branch is centrally located at 135-27 38th Avenue, Suite 100, Flushing, NY 11354. Its hours of operation are Monday to Friday from 8:30 AM to 5:30PM. To further enhance customer service and make space for a growing call center, Firstrade has also established a new state of the art headquarter at 30-50 Whitestone Expressway, Flushing, NY. This location also has a small branch in its headquarter to service brokerage clients. The call center employs one of the largest Asian bilingual customer service teams in the industry.
About Firstrade Securities Inc.
Founded in 1985, Firstrade is a leading online brokerage firm offering a full line of investment products and tools to help investors take control of their financial future in trading equities, ETFs and options. Firstrade is a comprehensive solution for all your investing needs. Firstrade is a member of FINRA/SIPC. For more information, visit http://www.firstrade.com.