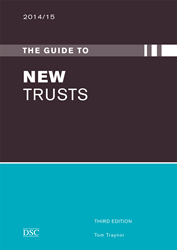 'As a busy manager I need a book that gives me concise information so I can target my appeal for support. This book has given us just that, and has helped us have some successful appeals.'
(PRWEB UK) 26 August 2014
Celebrating its 3rd Edition, the Guide to New Trusts 2014/2015 is back on an annual basis with 100 newly registered trusts from all over the UK.
There seems to be an air of constant disappointment in the sector due to the after effects of the recession, particularly on fundraising. However, researchers at the Directory of Social Change state that the sector is recovering but charities need to understand how and when to approach charities better. The Guide to New Trusts 2014/2015 lists the top 100 grant-making trusts registered in 2013 with vital information on their requirements. This allows the fundraiser to write a more well informed and relevant application with greater potential for success.
"As a busy manager I need a book that gives me concise information so I can target my appeal for support. This book has given us just that, and has helped us have some successful appeals. I would recommend this book to anyone attempting to raise funds for their service or project in the current competitive climate."

Allison Hardy, Service Manager, Leonard Cheshire Disability
The guide is available in print and digital format and is a vital companion for every fundraiser on the challenging journey of fundraising.
Join the conversation on twitter and tweet @DSC_Charity and use the Hashtag #DSCnewTrusts.
For more information please contact Mustafa Al-Obaidi, Directory of Social Change by email (mal-obaidi(at)dsc(dot)org(dot)uk) or phone (020 7391 4863).
Notes to editors:
Founded in 1974, the Directory of Social Change (DSC) is a national charity which supports an independent voluntary sector through campaigning, training and publications. DSC is the largest supplier of information and training to the voluntary sector, and its work helps tens of thousands of organisations every year achieve their aims. Learn more at http://www.dsc.org.uk
The information listed on each funder in the Guide to New Trusts includes: Beneficial area, contact details and preferred method of application, trustee names, funding areas considered and exclusions where known and any information available on grant-making policies and practices.
None of the funders have previously appeared in any of DSC's funding guides.