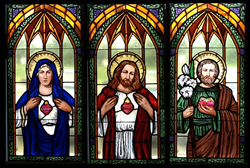 (PRWEB) August 21, 2014
Associated Crafts, the nation's leading stained glass studio, recently installed a set of three beautiful stained glass windows for St. Mary Catholic Church in Charlevoix, Michigan. The project was inspired by prayer cards selected by the Church, which depict the figures of the Virgin Mary, Jesus Christ and St. Joseph.
Glass painter and designer Cris Soth said the project, which was completed on July 14, 2014 after three months of work, was a combined effort between Associated Crafts artisans who took part in all stages of the project – from the earliest design stages, to painting, fabrication, and finally, installation.
The windows were fabricated in the Associated Crafts studio before being installed into the existing openings of St. Mary Catholic Church. Once installed, Associated Crafts used a protective glaze as well as the installation of vented, protected coverings designed exclusively for the preservation of stained glass, to keep the windows looking their best.
"We were honored to be a part of this project from start to finish. Stained glass windows remain an important treasure within church communities, which is what we love to see," said Mary Phillips, VP of Special Projects at Associated Crafts. "All of the hard work from our team, along with the passion and devotion of the St. Mary Catholic Church clergy, staff and community, will remain evident in these exquisitely crafted stained glass windows for years to come."
The design of the three windows remains true to the original prayer cards provided by the Church. The stained glass design shows the Virgin Mary, depicted as the Mother of Sorrows and baring the Immaculate Heart of Mary. According to tradition, the heart is pictured aflame- ringed with roses, symbolizing heavenly joy. Often depicted along with the Immaculate Heart, the Sacred Heart of Jesus is another popular devotional image of Christ, dating back to the eleventh century.
Represented aflame, Jesus' Sacred Heart is encircled in a crown of thorns – recalling His crucifixion. The figure of Joseph safely protects the Hearts of Mary and Christ in his left hand; in his right he holds a flowering rod. According to artistic tradition, Joseph carries a staff topped with a bloom of lilies recalling the ancient legend of how he was chosen to be the spouse of the Virgin Mary.
To learn more about Associated Crafts' projects, please visit http://www.associatedcrafts.com
About Associated Crafts
Founded in 1997 by John and Mary Phillips, Associated Crafts is a family-owned and operated Stained Glass studio specializing in the restoration, installation, design and preservation of church stained glass windows. The company's expertise culls from John Phillips' more than 30 years in every aspect of the stained glass business, following his father's footsteps in the industry. For more information, visit http://www.associatedcrafts.com