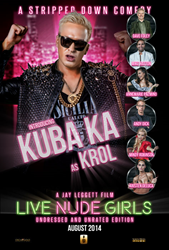 I was very happy, this is my first U.S. movie premiere, what a fantastic night!!! Since my arrival I felt very honored and surprised by Hollywood Fans with my printed pictures waiting for me to sign them, that was the best!
Las Vegas, CA (PRWEB) August 21, 2014
International pop sensation, and now star of the silver screen, KUBA Ka is preparing the release of his U.S. debut album, a full length recording he has been working on in between his numerous high profile projects. It was KUBA's versatility that first caught the attention of Michael Jackson's famed ex-manager Frank DiLeo who took KUBA under his wing and became his first manager in America, telling the press at the time that KUBA is "an incredibly unique and versatile performer with an imaginative dynamic vision." Frank DiLeo knew that KUBA would not be limited to the dance floor, but would also excel in a variety of enterprises, including his "KUBA Ka Empire," an entertainment/casino complex being developed for Las Vegas.
DiLeo also knew that KUBA would be a natural fit for the movies, and despite making numerous television and movie appearances in his native Poland, KUBA is just now breaking out onto American screens with his debut role in the action comedy Live Nude Girls, a remake of the 1995 comedy originally starring Kim Cattrall (Sex in the City) and Dana Delany (China Beach). The revamped Live Nude Girls, however, is given a twist that the original version could not have imagined.
2014's version of Live Nude Girls revolves around a young man who inherits a gentleman's club from his uncle in Los Angeles. KUBA takes on the role of Krol, a larger than life European gangster prince who falls in love with one of the exotic dancers at the club. Not only is KUBA featured alongside comedians Andy Dick (The Ben Stiller Show) and Dave Foley (Kids in the Hall), his 2013 Sean Garrett produced dance floor smash "Stop Feenin'" is featured prominently in the film as well.
The film premiered to a sold out crowd at Hollywood's legendary and historic Avalon Theatre on August 12th, where the Live Nude Girls cast was joined by actors Najee De-Tiege (Power Rangers Samurai), Daisy De La Hoya (Daisy of Love), Christianna Carmine (Taylor'd Problems), and Randy Couture (The Expendables 3) among many more.
Interviewed on the red carpet, KUBA explained how his character transforms from someone who falls in love with one of the showgirls, to someone who begins acting like he owns the club. For him, the filming felt like a rock and roll performance where he had to show up and give it his all.
KUBA arrived in a custom Emporio Armani designed gladiator style one sleeve vest, and a solid gold belt and bracelet, as well as shoes, designed exclusively for him by Donatello Versace.
The old Hollywood style premiere, in the palatial Avalon Theatre with the gold staircase glowing in neon lights, was an unqualified success. A wall of photographers crowded the red carpet, and KUBA's legions of Hollywood fans waited for him to sign pictures for them. Overall, KUBA, the obvious hit of the evening, called the premiere "epic," and let it be known that another film would be following soon. Reflecting on the opulence and splendor of his first American premiere, KUBA Ka summed it up best by exclaiming, "I was very happy; this is my first U.S. movie premiere. What a fantastic night! Since my arrival, I've felt very honored and surprised by Hollywood Fans with my printed pictures waiting for me to sign them; that was the best! It's all about giving and sharing the fun and joy of entertainment – only in Hollywood."
To learn more about KUBA Ka, go to: http://www.kubaka.com