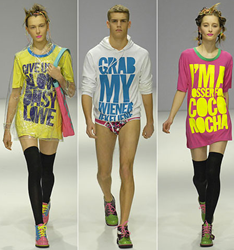 London, Barcelona, Berlin (PRWEB UK) 28 August 2014
Another exciting event in the fashion industry is about to take place next month: the London Fashion week, showcasing the new Spring/Summer collection for 2015. A variety of designers will be presenting their designs, from extravagant evening dresses to colourfully all over printed t-shirts.
The schedule for this year's Fashion Week has now been published and collections from designers such as the sisters FELDER FELDER, will be shown, expressing their love to print with their trademark piece: "A cool leather jacket with rock'n'roll edge worn over one of our signature printed skater dresses."
The designer duo Teatum Jones follows a completely different style, however still incorporates prints in their signature pieces: "Cryptic prints and luxe bespoke fabrics that are applied to modern silhouettes striking a balance between the masculine and the feminine."
Yet another designer, Holly Fulton, describes her trademark piece as "a digitally printed, full-length monochrome dress in silk jersey."
Very flashy designs have been showcased by House of Holland in the past. The designer himself describes his style as "bold, colourful, irreverent." With his trademark being the t-shirt.
These statements indicate that printed textiles will find their place in this year's summer/spring collections.
Garment Printing works with many fashion designers, using latest DTG printing technique, which is perfect for fashion designers, as it can reproduce any design in full-colour brilliantly; or dye-sublimation all-over printing, which produces amazingly vivid colours and can be used with no restrictions to the print size or colours (aka All Over T-shirt Printing).
These techniques allow clients to design their own garments in the style of their favourite designer for a fraction of the price, it will also be a unique textile with the print exactly as they want it. Personalisation & customisation of clothing has always been a fashion and trend, but as technology develops, this demand from customers is increasing drastically.
In the spirit of the London Fashion Week, Garment Printing now offers a 10% discount on all-over printed t-shirts, hoping to inspire designers to take up new challenges and think outside of the box when designing t-shirts. This way, Garment Printing will strengthen its position in the fashion market while ate the same time encouraging newcomers to get started without high investments.
About Garment Printing
Garment Printing is an industry-leading international promotional and customised clothing company that aims to maximise the efficiency of marketing teams and agencies through its integrated, global supply chain. Garment Printing offers a complete range of bespoke personalised t-shirt printing techniques including screen printing, embroidery, direct-to-garment and the latest dye sublimation t-shirt printing technology combined with express turnaround and excellent customer service. Garment Printing's agency work involves consultation with global brands, marketing teams and promotional agencies to ensure all printed clothing campaigns are realistic, within budget and effective. Its dedicated team act as extended members of the client's business to efficiently exceed customer and client expectations. For more information visit our website, follow us on LinkedIn, Facebook and Twitter.