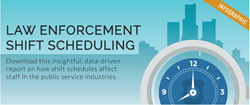 Houston, TX (PRWEB) August 20, 2014
EmLogis, a leading provider of automated employee scheduling software, today announced the release of a law enforcement shift scheduling infographic. Based on the results of the "The Shift Length Experiment" study conducted by The Police Foundation, the infographic presents an easy-to-read graphic view of the effects of the 8, 10, and 12 hours shift schedule on various law enforcement agencies. The infographic may be downloaded from the EmLogis Corporate Web Site at: http://www.emlogis.com/law-enforcement-shift-scheduling-download/.
Many law enforcement agencies have been using 12-hour shifts for 20 years or more. Now, some law enforcement agencies are considering returning or have returned to 8 or 10 hour shifts – sparking a great debate amongst law enforcement personnel. Proponents of the 12-hour shift claim that it saves personnel costs, is easier to schedule, and gives officers more money and more time off to spend with their families. Critics of the 12-hour shift cite safety concerns, risk of fatigue, risk of inattention, low employee morale, and stress.
The infographic, presented by EmLogis, is designed to help employee scheduling managers in corrections, law enforcement and other public safety agencies better understand:

The latest research on shift scheduling
The pros and cons of 8, 10 and 12 hour shifts
The impact of various shift schedules on specific groups of law enforcement employees
About EmLogis
EmLogis offers web-based, automated employee scheduling software is specifically designed for challenging and complex employee scheduling environments – such as those that require 24 x 7 x 365 staff coverage and have demanding staffing-level requirements, skill-level requirements, or strict compliance requirements. These requirements are often found in Corrections Staff Scheduling, Long Term Care Staff Scheduling, Dialysis Staff Scheduling, as well as many other Public Safety Staff Scheduling and Healthcare Staff Scheduling situations. EmLogis provides a powerful, easy-to-use employee scheduling solution that is easy to install and use and is entirely web-based, requiring no installation, no hardware, and no upgrades. EmLogis' employee scheduling software is proven to reduce staffing costs, ensure staffing level compliance requirements and increase employee satisfaction. Unlike other employee scheduling solutions that can cost hundreds of thousands of dollars and can take a year or more to set up, EmLogis is easy to use, affordable, and can take as little as 14 days to implement.
Headquartered in Houston, Texas, EmLogis serves customers worldwide primarily in Corrections, Public Safety, Healthcare, and Long Term Care environments. Contact EmLogis at +1-888-302-9830 or visit http://www.emlogis.com for more information.
EmLogis and SmartRules Scheduler™ are trademarks of EmLogis Inc. in the United States and other jurisdictions. All other company and product names may be trademarks of their respective companies.