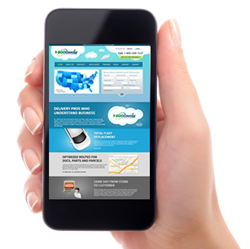 Atlanta, GA (PRWEB) August 21, 2014
1-800 Courier a recognized leader in same-day delivery, messenger and transportation services nationwide, announces online tracking for same-day delivery orders. The same-day courier has made the announcement in efforts to promote its value-added online services, improve customer order visibility and increase courier sales growth. 1-800 Courier pursues to be the best choice for superior same-day transportation and one-stop courier solutions throughout the US.
Quick Track, the online tracking tool, is easily accessed within the "Tracking" page on the courier's comprehensive website. The tracking number, also known as the order confirmation number, is inserted into the quick track field. Quick Track provides useful tracking information to 1-800 Courier customers, including shipment activity, tracking details, and order information. Customers have access to the time of they placed their order, the ready time stated for the package and the time the order was dispatched to a driver. The tracking details will display the time the item was picked up and delivered.
The online tracking tool will also offer more visibility to general order information as a quick reference, such as the tracking number, service type, weight, and pieces. Upon delivery, Quick Track will inform customers who signed for the package. Actual physical signatures can be received within 24 hours upon request. For any tracking discrepancies or questions, 1-800 Courier is available 24/7 to assist with tracking any of its' customers' shipments. The Phoenix courier continues to offer its' customers a variety of tools to assure optimal online user friendliness and quick access for same-day delivery.
1-800 Courier is a recognized leading same-day courier service, transportation and distribution services. From small packages to palletized freight, 1-800 Courier delivers on-time and fast. Based in Atlanta, Georgia, 1-800 Courier successfully services a growing list of over 1,500 clients, including Fortune 500 Companies nationwide.