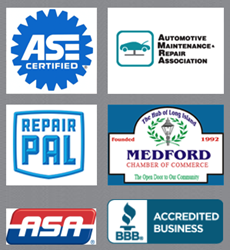 Medford, NY (PRWEB) August 22, 2014
ER Automotive, the premier automotive service and repair shop serving Medford and the surrounding areas of Suffolk County, has recently updated their website with various badges regarding certifications received and participations in a variety of organizations. For the team at the Medford-based automotive repair and service facility, these badges represent more than just adornments on their website at http://www.erautomotive.com or on the front door of their shop.
Since they opened their doors at their facility on Route 112 in Medford on Long Island, the owners and staff at ER Automotive have seen a growing influx of clients seeking the best in automotive repair and service. While the clients have been eager to get their vehicles properly taken care of, the question always come up about experience, certifications and memberships in various automotive repair industry groups that signify the expertise possessed by the team. With over 25 years of combined experience, the technicians at ER Automotive know there is very little they haven't seen in terms of automotive issues and even less that they had trouble dealing with. For many clients however, seeing a certification when they enter the shop or when they visit the ER Automotive website is an added reassurance.
Recently the ER Automotive owners were able to update their website with the same marks of excellence and industry affiliations that are normally found on the wall of the repair shop. Among the badges added to the site are the following certifications:

The National Institute of Automotive Service Excellence ASE certification
Automotive Maintenance & Repair Association AMRA member badge
Repair Pal Certification
Automotive Service Association ASA member badge
Medford Chamber of Commerce member badge
The owners and technicians of ER Automotive understand the importance of these certifications, accreditations and memberships are for their clients. As one team member said, "these are just as important to us as they show our dedication to providing the very best service while maintaining our knowledgebase of best practices for our industry." Another team member noted that when clients see the accreditation from the New York State Better Business Bureau and the membership badge for the Medford Chamber of Commerce it gives them the confidence that ER Automotive is not a fly-by-night operation but one that is dedicated to their craft and the community and that they will be around for a very long time.