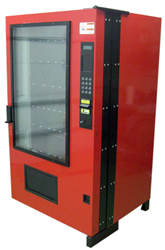 "Bicycle Parking solutions for a greener world"
Clifton, NJ (PRWEB) August 22, 2014
When bike shops are closed or far away, cyclists that need minor bike repairs are often out of luck. However, thanks to these customized vending machines, cyclists can buy items like inner tubes and patch kits and accessories 24 hours a day, 7 days a week. The machines are well suited for indoor and outdoor applications such as bike rooms, college and corporate campuses and have high security measures built-in.
Velodome Shelters will supply vending machine owners with a planogram of suggested stocking items while remote auditing via cellular network allows sales and inventory data to be monitored. Maintenance is extremely minimal and affordable since machines use common vending technology. The machine can be customized to accept bills, coins, credit cards, university cards, and gift cards of any kind.
For more information, pricing and additional options, contact Velodome Shelters.