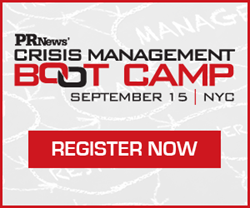 New York, NY (PRWEB) August 22, 2014
PR News' Crisis Management Boot Camp, which will take place on Sept. 15 in NYC, is designed for PR and marketing teams looking to learn and master the skills required to lead an organization's communications strategy before, during and after a crisis. This intensive one-day boot camp will put attendees through the paces of crisis communications to help avoid, or at least mitigate, the damage that can come to a brand. Our expert crisis managers will share their experiences and insights in developing a crisis plan, managing a team to execute that plan and how to guide an organization through its inevitable stormy seas.
The Early Bird rate gives attendees the opportunity to save $100 off the registration rate of this industry-leading event. Register before midnight EST on Friday, August 21, 2014 to secure this rate.
For more information or to register, visit: http://www.crisisbootcamp2014.com.
Hear from Keynote Speaker Mary Grady of Los Angeles World Airports, who will give a moment-by-moment account of how her team responded to the LAX shooter incident of November 2013—and share practical takeaways communicators can use for all kinds of crises. Also hear from speakers at Weber Shandwick, APCO Worldwide, InkHouse, MWW Group, and more!
The full agenda for the Crisis Management Boot Camp can be found here: http://www.crisisbootcamp2014.com/crisis-boot-camp-agenda/.
Years of hard work in building and shaping a brand's reputation can be undone in a matter of hours, even moments, when a crisis hits. A lapse in judgment on social media, a careless quote tossed out in mixed company, even a no-fault accident beyond human control—any of these can bring down an executive or an entire company. And no company is immune. The expert trainers at PR News' Crisis Management Boot Camp will prepare attendees for any crisis situation—before, during, and after.
Register now at http://www.crisisbootcamp2014.com/.
For sponsorship and exhibit information, contact PR News Vice President & Group Publisher Diane Schwartz at dschwartz(at)accessintel(dot)com. For questions regarding attending the event, contact Conference coordinator Rachel Scharmann at rscharmann(at)accessintel(dot)com or call (301) 354-1713.
About PR News:
PR News is a daily intellectual hub that serves the communications and marketing community at corporations, agencies and nonprofits. The PR News Group focuses on honing and growing PR practitioners' skills in social media, crisis management, digital PR, measurement, employee relations, media training, CSR and writing through its flagship newsletter, webinars, conferences, awards programs, workshops and guidebooks. With the launch of its weekly newsletter over 70 years ago, PR News has remained dedicated to supporting the growth of communicators all while keeping them abreast of the latest news affecting the industry. For more information, please visit http://www.prnewsonline.com.