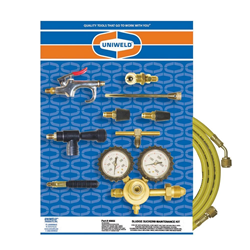 Quality Tools That Go To Work With You.®
Fort Lauderdale, FL (PRWEB) August 21, 2014
Use Uniweld's Sludge Sucker Maintenance Kit to clean a system's condensate drain line and keep it running efficiently. Uniweld's 40055 Sludge Sucker Maintenance Kit includes the tools for cleaning a condensate drain line, cleaning coils, as well as inflating tires and unclogging sinks.
Cleaning a condensate drain line is easy with the use of a Sludge Sucker or Sludge Blaster. The Sludge Sucker is a tool that was developed to clean out a condensate drain line without having to access the drain pan located in the A/C System's Air Handler. The Sludge Sucker's clear vinyl hose is attached to the 3/4-Inch PVC condensate drain line on the outside of the building. With the use of Nitrogen, CO2, or water, suction is created that pulls all the sludge and algae from the drain pan and drain line; then blows it onto the ground outside.
The Sludge Blaster is inserted into the drain line (Pipe Capacity: 3/4-Inch to 1-Inch), expands inside the pipe, and with the use of nitrogen pressure, blasts the sludge and algae free. This kit also includes an RHP400 Nitrogen Regulator with a delivery pressure of (0-400 PSI), a BG1 Blowgun, a five foot and a two foot service hose, a needle tip, ½" and ¾" rubber plugs, and an air chuck to inflate tires. Uniweld strives to produce "Quality Tools That Go To Work With You" and the Sludge Sucker Maintenance Kit will simplify the tasks that will keep an AC unit running smoothly.