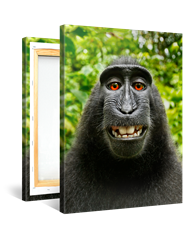 Grab your free canvas prints and do your bit to help these poor monkeys.
(PRWEB) August 20, 2014
Go bananas with this free 12x8" canvas print offer from wildlife photographer David J Slater and global photo products company, Picanova.
In a tit-for-tat move, Slater is offering the famous monkey selfie up for grabs for all – on a stunning 12x8" gallery-wrapped canvas print.
"Not only am I fighting Wikipedia, I'm also fighting for the preservation of these monkeys. With its population having declined as much as 90% over the last 30 years, there might not be much time left to cherish these primates. Grab your free canvas prints and do your bit to help these poor monkeys," said Slater.
With every order, Picanova will be donating $1.70 to the Sulawesi crested black macaques Conservation Project (Selamakat Yaki in Indonesian), in support of its conservation, education and research efforts. The striking primate in the selfie counts itself among the critically endangered Sulawesi crested black macaque species, whose very existence is threatened because of hunting by the local population. In their native home of Sulawesi, the monkeys are considered a delicacy and hunted at a highly unsustainable rate.
The monkey selfie, with its subject's mischievous grin and glowing ember-like eyes, currently lies at the heart of Slater's copyright wrangle with Wikipedia, which has, on account of its non-human author, declared the photo as falling under the public domain. Slater resolutely disputes this and may be taking the matter to court.
"As a canvas print company, we partner with thousands of photographers. We empathize therefore with David's legal struggle and understand the complex ways this battle will impact our friends in the photography community. At the same time, this isn't all there is to it. The uproar needs to be re-focused on these monkeys who are at extreme risk. This partnership ensures the future of the Sulawesi crested black macaques may shine a little brighter," said Phil.
Customers may order their free monkey selfie canvas print by visiting: Picanova.com/MonkeySelfie. With the voucher code "#MONKEYSELFIE", buyers may not only redeem the monkey selfie print, but also use the code to order a print of their own photo or use $46 credit on a larger size of their choice.
To join the conversation and keep tabs on the latest news, tag your posts with: #monkeyselfie
About Picanova.com
Picanova.com is a canvas printing service offering custom-made photo art on canvases already stretched on the frame. Picanova.com offers the lowest prices and highest quality in the industry, delivering to 170 countries.