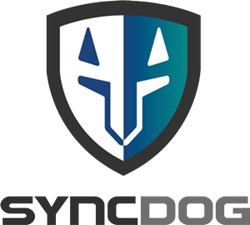 Unfortunately, it is not enough to have MDM or EMM software on mobile devices. You need another layer of secure authentication.
Reston, VA (PRWEB) August 20, 2014
SyncDog, Inc. today announced a partner agreement with Thursby Software, the market leader for enterprise Apple and Android integration. The agreement provides for SyncDog to implement two-factor security within its Enterprise Mobility Solution via Thursby's software development kit (SDK) PKard® Toolkit. Thursby's SDK is completely engineered (as opposed to marginally-developed open source systems) with full documentation and support for CAC, PIV, and PIV-I cards as well as derived credentials. The SDK has been validated to FIPS 140-2 standards with AES-256 encryption for data in transit and at rest, and is currently deployed in a multitude of U.S. Government locations.
SyncDog will leverage Thursby's Toolkit to integrate government-level CAC identity management into SyncDog's application container product Sentinel Secure. Sentinel Secure will be deployed in both commercial and government sectors where BYOD continues to expand networks beyond traditional corporate-owned perimeters and onto shared personal devices. By combining Thursby's two-factor security technology and Sentinel Secure's remote wipe function to hybrid personal/business devices, the vulnerability to perimeter intrusion through applications is lessened when a device is lost or stolen. The organization merely remotely wipes the device with the comfort of knowing the container within the device was untouched prior to reset.
"Because of the abundance of lost and stolen mobile devices, BYOD has created an IT world where network perimeters are constantly under attack," said Jonas Gyllensvaan, SyncDog president and CEO. "Unfortunately, it is not enough to have MDM or EMM software on the device. You need another layer of secure authentication and in Thursby we have found that partner, and we are proud to integrate their CAC technology into Sentinel Secure."
Thursby Software's Toolkit ensures that integrated applications and the data within are secured through two-factor authentication so that information remains secure in the time between when a device is lost and when it can be wiped. Thursby's PKard® Reader comes in several form factors including discrete cases with built-in readers for full-sized iPad or iPad minis. The Readers also come as sturdy metal plug-in readers that support a wide range of iPad, iPhone and iPod devices, including older 30-pin types.
"The use of username and password are no longer adequate forms of security," said Jean Panek, Sales Manager at Thursby. "Government and corporate organizations that are truly committed to securing data on their mobile devices need to employ smart cards and/or derived credentials for true two-factor authentication. Combining this with a product like Sentinel Secure gives a complete security package that we feel confident will meet our customer's most stringent security concerns."
About SyncDog, Inc.
A mobile workforce fueled by BYOD is fast replacing traditional computing as the most complex work platform for IT professionals to manage. IT shops are now forced to support platforms running outside of their standard networks creating a nearly insurmountable dilemma for maintaining service quality and security.
SyncDog, Inc. offsets this burden in a comprehensive solution that manages pro-active mobile device monitoring, mobile device security, mobile application containerization, and compliance reporting. Our flagship product, SyncDog Sentinel Secure Enterprise Mobility Suite solves the mobility service and security dilemma that keeps IT staff in the dark about service disruptions and security issues caused by malicious and careless users. With SyncDog's Sentinel Secure Enterprise Mobility, IT administrators have the mobile enterprise visibility to be proactive with application delivery and security, giving them the freedom to focus on driving revenue to the organization.
SyncDog's Sentinel Secure Enterprise Mobility is a powerful combination of low overhead and predictive intelligence for all of today's mobile platforms. Your network supports every transaction crossing it and SyncDog helps you protect and understand it.
For more information on SyncDog's products and services, please visit http://www.syncdog.com.
About Thursby Software Systems, Inc.
Thursby is an American company celebrating nearly three decades of enterprise iPad, iPhone and Mac integration, management and security specialization. Historically, integration was with Microsoft-focused server infrastructure, and more recently cloud and Android. Thursby is headquartered in Arlington, TX, a suburb of Dallas-Fort Worth, with over 80,000 clients in over 140 countries and well over a million software licenses sold. Government sales are from Rockville, Maryland. Clients include organizations with hundreds to thousands of devices under management, ranging from government, to healthcare, finance and enterprise, to education and research, including the FORTUNE 500™, Global 2000 and OEMs. Partners include Apple, Microsoft, Juniper, Samsung and others. For more information about Thursby and its products, please refer to http://www.thursby.com.
Thursby Press Contact: Jean Panek, marketing(at)thursby(dot)com | +1-817-478-5070