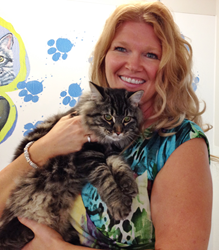 This family-friendly event is not just about watching cat videos, it's about watching cat videos together.
Winnipeg, Manitoba (PRWEB) August 21, 2014
Cat lovers know that cats consider themselves as the centre of their universe. Knowing this is not true, owners capture the funniest videos. The best internet cat videos have been compiled into a 70 minute laugh-out-loud film called 'Just for Cats'.
Screenings of Just for Cats are taking place throughout North America, including an exclusive screening on September 21st in Winnipeg presented by the Wi nnipeg Humane Society. This is a fundraising event for the shelter that takes in over 5,000 homeless cats each year.
WHEN: Sunday, September 21st, 2pm
WHERE: Caboto Centre, 1055 Wilkes Avenue
COST: $20 adults; $10 for 16 years and under.
Tickets can be purchased winnipe ghumanesociety.ca and at The WHS Gift Shop.
Cats fascinate us and provide perfect entertainment. This family-friendly event is not just about watching cat videos, it's about watching cat videos together.
Background:
August of 2012 saw over 10,000 people descend on the Walker Art Centre's Open Field venue to celebrate cats and bring online communities together in the real world. The world's first Internet Cat Video Festival was an unmatched and unforeseen success. This single event sparked international headlines, took over the internet 'airwaves' and was even screened at the internationally recognized SXSW (South by South-west) interactive conference and festival in Austin, TX.! Canadian Federation of Humane Societies (CFHS) secured the distribution rights for Canada. Members of the Canadian Federation of Humane Society, this includes the Winnipeg Humane Society, can screen the video as part of their ongoing fundraising efforts.
The Winnipeg Humane Society is a charity and non-profit organization whose mission is to protect animals from suffering and to promote their welfare and dignity. Funded primarily by donations, The WHS has pets for adoption to the public. All pets available for adoption have been spayed or neutered, vaccinated, and have received a behavioural assessment. If you'd like to learn more about cats or dogs for sale or The WHS please visit winnipeghumanesociety.ca.
###