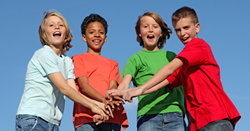 The Ice Bucket Challenge is a great way of utilizing the power of peer pressure into a good deed. It needs to remain that way.
London, UK (PRWEB) August 21, 2014
One fact is for sure, there is no harm in having some laughs or some fun for a good cause. However, when it comes to the Ice Bucket Challenge taking the social media world by storm, one couldn't help but wonder, are some people doing the ice bucket challenge bullied into it? NoBullying examines today the facts and ways of the Ice Bucket Challenge.
The Ice Bucket Challenge went viral in late June 2014, the ALS Association, (Lou Gehrig's disease) used the Ice Bucket Challenge as a fun easily-turned viral way of asking for and receiving donations for the treatment and research purposes of ALSA.
The idea was simply that people are challenged by others to video record themselves while, first, announcing their acceptance of the challenge followed by pouring ice into a bucket of water. The bucket is then to be lifted overhead and poured over the participant's head. Then the participant must call out the same challenge to others who must respond within 24 hours.
It is expected out of the person accepting the challenge to donate $10 if they have poured the ice water over their head and donate $100 if they refuse the challenge. That version seems to be a winner combination, the charity is getting money either way and people are having a laugh or two.
However, by watching some videos, tweets and Facebook posts related to the ice bucket challenge, it is very easy to notice that for some people, getting ice water dumped over them is in lieu of actually donating to ALS. That is just, a bucket of ice water over someone's head for no point what so ever.
Celebrities went onto the ice bucket challenge wagon, from Former President George W Bush to Bill Gates, everyone is getting ice water dumped over their head, although, most celebrities forgot to share the actual donation information in their videos, which negates the actual purpose of the movement. After all, one should assume that the videos must mention where people should go to give donations to the ALS Association or other foundations in need of funds.
The fear here, like any social media phenomena, it starts with a good cause, a few laughs, then ends with someone being harassed and bullied into it. Searching the #icebucketchallenge Hashtag on Twitter will reveal boys and girls all over the world being called obscene names by their friends if they announce they won't do the Ice Bucket Challenge.
NoBullying believes this new trend calls for the power of celebrity. Celebrities in this challenge need to make it clear on their videos that the ice bucket challenge is for a good cause and no one needs to be harassed or bullied for refusing to participate in it. Doing a good deed should never stem from bullying or harassment, it is an act of charity and good citizenship and no one should be harmed doing it or for refusing to do it.
Ciaran Connolly, Co-Founder of NoBullying.com, said "The Ice Bucket Challenge is a great way of utilizing the power of peer pressure into a good deed. It needs to remain that way."
He added that parents and teachers should make a point to educate the younger generations about the sad outcome of bullying online and offline even with using bullying songs. According to Connolly, it is quite imperative to press for more firm laws condemning all acts of bullying and harassment.
NoBullying.com features many pages dedicated to parents, teens, teachers, health professionals as well as posts related to cyber safety and the latest news about law making concerning curbing Bullying worldwide as well as inspirational Bullying Poems and famous Bullying Quotes.
The website regularly updates its bullying statistics and cyber bullying statistics as it is essential to understand how widespread the bullying epidemic is. It also regularly runs cyber bullying surveys and questionnaires to get recent updated statistics on everything related to cyberbullying.
He also added that anyone suffering from bullying or violence in any form or way can always find advice and help on the NoBullying website – but if anyone is suffering from severe bullying or cyber bullying, the best thing is to talk to someone locally – a parent, teacher or local organization that has been set up to help with specialized councilors to deal with this topic.