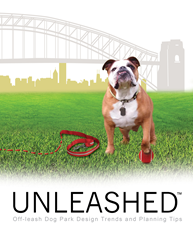 Chattanooga, TN (PRWEB) August 21, 2014
Dog ownership has grown significantly over the past few decades, and dog owners are seeking spaces where they can engage in outdoor fun with their pets. Benefits associated with the creation of dog parks impact dog owners, dogs, and the communities where these parks are located. Dog parks keep individuals and pets active, help increase enjoyment of the outdoors, and help to increase social connectivity among people.
To ensure a dog park is meaningful to the community, as well as to pet owners, a variety of planning and design considerations should be taken into account. Unleashed helps make the process easier by providing guidelines on location and context, promoting usage and community interest, planning and implementation strategies, as well as marketing and programming. Case studies of successful dog parks are also included.
Community representatives who are interested in building a dog park are encouraged to log on to http://www.playcore.com/unleashed-dog-park-design.html to request a copy of the book or link to dog park product sites to design your own perfect dog park!