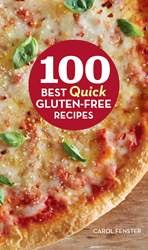 "The number one question that gluten-free cooks ask me is how to shorten their time in the kitchen," says Fenster.
Denver, Co (PRWEB) August 27, 2014
Carol Fenster, a pioneering expert in gluten-free cooking, offers a new cookbook—100 Best Quick Gluten-Free Recipes (Houghton Mifflin Harcourt, 2014)—that makes it easier to quickly prepare gluten-free meals.
Fenster believes that cooking gluten-free food can be fun, delicious, and easy, but she understands how today's busy lifestyle doesn't leave much time for food preparation.
"The number one question that gluten-free cooks ask me is how to shorten their time in the kitchen," says Fenster. "Given these requests, I recognized the need for a cookbook that makes it easy for the home cook to quickly prepare gluten-free meals."
The new cookbook explains how to shop wisely with a plan to select gluten-free ingredients from an extensive (and sometimes confusing) product shelf, how to save time in baking and cooking, and how to master basic gluten-free cooking techniques—such as baking delicious breads more quickly or rolling pizza dough more easily—all with simple instructions that offer time-saving tips along the way.
"Gluten-free people want to continue eating their favorite foods such as pizza, bread, and pasta—and all-American desserts such as brownies, cakes, and cookies," says Fenster. And they miss childhood favorites such as meat loaf, sloppy joes, chicken enchiladas, and comfort-food casseroles. But they have to learn how to make them with new, sometimes unfamiliar, gluten-free ingredients which can often take a little more time. So the book focuses on familiar dishes made with gluten-free ingredients so they are safe—but with time-saving shortcuts built into all of the recipes.
For example, using Fenster's 'cold-oven start,' French baguettes bake in only 30 minutes. Pizza crusts can be baked ahead and frozen, ready for topping at a moment's notice. She shows how to use time-saving appliances, such as a slow cooker for baby back BBQ ribs or red beans with rice, a food processor to blend cookie dough in seconds, or a microwave to cook polenta untended, instead of constantly stirring it for 20 to 30 minutes. And she suggests baking main dishes, such as meat loaf, in mini-loaves or perhaps muffin tins to reduce oven time.
For baking, the book features a versatile sorghum-based flour blend as the base for Fenster's easy, streamlined recipes. It is a blend of flours that mimics the behavior of wheat flour and is measured the same way. "Sorghum flour is now readily available to consumers after being used in commercial foods such as breakfast cereals, energy bars, and cookies for several years," says Fenster, "and it tastes more like wheat than any of the other gluten-free grains"
The book contains 100 recipes with color photos to show how the finished dish looks, and each recipe offers nutrient content and indicates whether the dish is vegetarian. A set of creative menus shows how to combine entrees, sides, and desserts for a variety of different meals, so everything looks good and tastes good together. 100 Best Quick Gluten-Free Recipes is Fenster's 12th cookbook and is available at Amazon or Barnes&Noble or through the publisher, Houghton Mifflin Harcourt.
This new book joins Fenster's other award-winning cookbooks— Gluten-Free 101, 1,000 Gluten-Free Recipes and 100 Best Gluten-Free Recipes, all from Houghton Mifflin Harcourt.