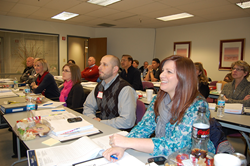 'Everyone has the same questions about Social Security,' said Kiner. 'But not everyone wants to attend a full slate of Social Security education classes.'
(PRWEB) August 26, 2014
Premier Social Security Consulting, LLC has launched an online community to educate professional advisors about Social Security rules, strategies and changes.
The community was developed and promoted by Aaron Kiner, special projects coordinator, said Marc Kiner, partner at Premier Social Security Consulting of Cincinnati. Premier teaches the National Social Security Advisors (NSSA) classes. The online community is offered for a limited time at no charge to anyone interested in learning more about Social Security issues.
"We want to promote an online community and are building a forum nationwide for people who want to interface with other professional advisors to learn more about Social Security," said Kiner. "Everyone has the same questions about Social Security, but not everyone wants to attend a full slate of Social Security education classes."
Premier teaches the NSSA program to certified public accountants, insurance agents, financial advisors, enrolled agents and other professional advisors. Premier educates professional advisors on the nuances of the Social Security system so they can in turn advise their own clients on the best time to access Social Security to maximize benefits.
Since baby boomers turn 65 years old at the rate of 10,000 a day nationwide, there is big demand to learn about Social Security, said Kiner. There are close to a million CPAs and financial planners in the U.S. alone, according to national statistics. Online community members can ask other advisors questions about Social Security issues. Premier Social Security Consulting will monitor the community.
Premier Social Security Consulting offers National Social Security Advisor education on Social Security in four different ways: through live classroom instruction for $795; via live web casts and on demand for $595; and through purchase of a seven-hour, 3-CD set of a taped Social Security education session with documents that can be downloaded for $295. The final option does not include ongoing support or NSSA certification.
Kiner and partner Jim Blair, who has 35 years of experience with the Social Security Administration, also plan a Tuesday, Sept. 9, 2014 appreciation and fundraising event in Cincinnati. The first NSSA Advisor of the Year award winner will be announced to honor the professional advisor promoting Social Security education and involvement in the Social Security consulting industry.
The event will also raise funds for Crayons to Computers, a greater Cincinnati nonprofit that collects and distributes new and gently-used school supplies to underserved children through teachers in 16 counties in Ohio, northern Kentucky and Indiana.
The NSSA certification program has grown significantly since its inception in January, 2013. NSSA revenue is up 205 percent year over year for 2014, and the number of advisors attending educational classes has reached 800. Advisors taking the class consist primarily of financial advisors, insurance agents and certified public accountants. Kiner said he would like to train about 1,500 more advisors this year.
Premier offered a Social Security webcast to Ivy Funds for its 70,000 financial advisors worldwide on Aug. 1. Kiner and Blair are also spokespersons for W&S Financial Group Distributors, a member of Western & Southern Financial Group, and educate their clients and producers on Social Security issues.
In other news, NSSA is helping edit the next edition of 2015: Social Security and Medicaid Facts, a resource manual written and published by National Underwriter Company of Erlanger, Ky. NSSA advisors will receive a 50 percent discount on the new edition.
The NSSA class schedule through September includes: a webinar on Sept. 4; Sept. 18 in Cincinnati; Sept. 22 in Denver; and Sept. 23 in Las Vegas.
For more information about the National Social Security Advisor certification program, go to http://www.nationalsocialsecurityassociation.com or http://www.premiernssa.com or call (513) 247-0526.
# # #
Contact: Marc Kiner
Email: mkiner(at)mypremierplan(dot)com
Phone: (513) 247-0526
About Premier Social Security Consulting:
Premier Social Security Consulting, LLC in Cincinnati educates professional advisors nationwide on how to navigate the labyrinth of the nation's Social Security program to help their clients maximize lifetime Social Security income. Partners Marc Kiner and Jim Blair teach the National Social Security Advisors (NSSA) certification program.