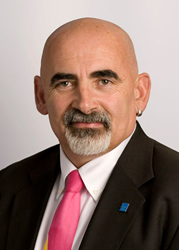 The positive results were almost immediate.
West Palm Beach, Florida (PRWEB) September 09, 2014
The Embedding Formative Assessment Professional Development Pack for establishing teacher learning communities, developed by internationally acclaimed education researcher Dylan Wiliam and experienced school administrator Siobhán Leahy, is now available from Learning Sciences Dylan Wiliam Center. The two-DVD set provides everything a school needs for 18 monthly professional development sessions over a two-year period. The resources include:

A PowerPoint presentation, with notes for an initial staff presentation
Videos of Dylan Wiliam presenting the key ideas about formative assessment and teacher learning communities
Videos of classroom practice exemplifying the use of formative assessment
Video interviews with teachers and students about their experiences in implementing formative assessment
All agendas, handouts, and facilitator notes for 18 monthly teacher meetings
A synthesis of studies on formative assessment by Black and Wiliam found student achievement gains to be among the largest ever reported for educational interventions.
The EFA pack guides schools through the planning and pacing of their own two-year professional development track in an easy-to-use format: the DVDs feature brief lectures from Dr. Dylan Wiliam, real-world footage of classroom practice, interviews with teachers and students, PowerPoint slides, schedules, agendas, observation and planning sheets, and other tools for full planning and implementation of classroom formative assessment. Facilitation notes provide teacher leaders with all of the guidance needed to make formative assessment a working practice that will enhance pedagogy, improve student learning, and increase achievement.
Dylan Wiliam explains the genesis of teacher learning communities: "One of the things we've been doing over the last ten years is exploring ways of getting teachers the support they need without actually having to find a coach for every single teacher. What we hit on is this idea of teacher learning communities. The idea is that teachers would group together, they would make promises to each other about what they try out in their own practice, and meet back monthly to report about their activities and get support from their colleagues about how to take that work forward."
Dr. Wiliam is one of the world's foremost education authorities. He has helped to successfully implement formative assessment in thousands of schools in Singapore, Sweden, Australia, and the United Kingdom, as well as the United States and Canada. A two-part BBC series, "The Classroom Experiment," tracked Dr. Wiliam's work at one British middle school, showing how formative assessment strategies empower students, significantly increase engagement, and shift classroom responsibility from teachers to their students so that students become agents of and collaborators in their own learning process.
Bill Williams, principal (retired) of Jupiter Farms Elementary School, has had notable success following the embedded formative assessment process. "As a school, we began re-thinking how we use the assessment process," Williams says, "so that assessment results would inform instructional decisions of both teachers and students, rather than to rank order our students. The positive results were almost immediate."
Learning Sciences Publishing is simultaneously releasing the definitive 11-booklet series on formative assessment, Inside the Black Box, coauthored by Dylan Wiliam, Paul Black, and others, in North America.
Visit the Dylan Wiliam Center at DylanWiliamCenter.com. For further information on Embedding Formative Assessment and books by Dylan Wiliam, or to schedule an interview with Dr. Wiliam, please contact James Hartnett at Learning Sciences International.