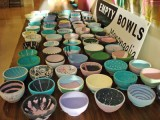 Congratulations to Empty Bowls Monongalia for their selection as a Governor's Service Award Recipient. This is Morgantown at its best!
Morgantown, WV (PRWEB) August 21, 2014
The Robinette Legal Group, PLLC would like to acknowledge and commend Empty Bowls of Morgantown for their selection as a Governor's Service Award recipient.
Empty Bowls is a grass roots organization which exists to bring awareness to hunger and food insecurity in the Morgantown area and to provide food and funds to Monongalia County food pantries and soup kitchens.
As Empty Bowls gears up for the 2015 fundraiser to be held at Mylan Park just outside of Morgantown, WV on February 28th, it is a good time to reflect on the success of the 2014 campaign. The total of funds raised was over $89,000. After expenses, this will provide an estimated $77,500 to distribute to the agencies this year.
The amount raised by the Empty Bowls fundraiser provided for eleven food pantries providing support to 22,855 individuals, seven feeding programs providing 140,582 meals, and three weekend backpack feeding programs providing 7,000 backpacks.
A total of 1,634 tickets were sold and 1,571 bowls were selected by patrons. We served or sold 269 gallons of soup. There were about 5,436 cookies donated by 16 churches and 3 individuals. New this year was a plan to recycle waste from the event. With the guidance of Green Earth Event Services, 905 pounds of waste was kept from going to a landfill. Donations covered the cost of the waste management.
Working together, businesses, churches, students, clubs, and individuals have made a difference to our Monongalia County neighbors. An additional highlight at the event this year was the violin (fiddle) musical serenade provided to the diners by individuals generously sharing their musical gifts and talents. This event exemplified Morgantown at its best.
As a Morgantown area law firm, we were pleased to have been a part of this fundraiser by contributing financially, having our children participate in making bowls for the event at ZenClay, and serving at the event fundraising luncheon.
Volunteers are needed year-round to support activities including: grant preparation, identifying potential donors and mailing them letters, public relations, and preparing bowls.
If you would like to learn more about this worthy project, visit the Empty Bowls webpage at http://ebmon.org or If you would like to become an EB volunteer, contact Mike and Tammy Miller at miketammymillereb(at)gmail(dot)com.
Submitted by the Robinette Legal Group, PLLC, a Morgantown West Virginia personal injury and car accident representation law firm.