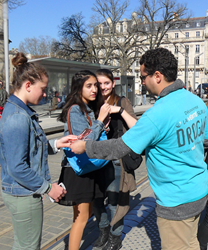 (PRWEB) August 20, 2014
"Non à la Drogue, Oui à la Vie!" (No to Drugs, Yes to Life!)—this is the byword of volunteers from Scientology Churches and Missions across France. Active in drug prevention throughout the year, they are out in force this summer, asking a vital question—"Do you really know the truth about drugs?"
At Truth About Drugs information stands in cities and towns throughout the country, volunteers are engaging people in one-on-one discussions on this very important subject: in the northwest in Angers and the walled town of Vannes on the coast of Brittany; all along the spine of the country in Lyon, Clermont-Ferrand, and Paris; in the southwest in Toulouse and Bordeaux; southeast to Avignon and down to the Mediterranean in Marseilles and Nice.
They distribute thousands of copies of The Truth About Drugs, a fact-filled booklet that lays out in simple terms the effects of the most abused substances. "People take drugs because they want to change something about their lives," the booklet states. "They think drugs are a solution. But eventually the drugs become the problem."
For more than two decades, French Scientologists have been promoting drug-free living in their communities. They are part of a movement spanning five continents, with volunteers working throughout the year to empower others with the truth about drugs. The Church and its members are dedicated to eradicating drug abuse through education.
The Church of Scientology supports The Truth About Drugs initiative, one of the world's largest nongovernmental drug education and prevention campaigns.
It has been conclusively proven that when young people are provided with the truth about drugs—factual information on what drugs are and what they do—usage rates drop commensurately.
The Church of Scientology has published a brochure, Scientology: How We Help—The Truth About Drugs, Creating a Drug-Free World, to meet requests for more information about the drug education and prevention initiative it supports. To learn more or read the brochure, visit the Scientology website.
Scientology Founder L. Ron Hubbard wrote, "The planet has hit a barrier which prevents any widespread social progress—drugs and other biochemical substances. These can put people into a condition which not only prohibits and destroys physical health but which can prevent any stable advancement in mental or spiritual well-being."