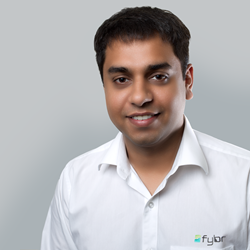 Saint Louis, MO (PRWEB) August 21, 2014
Fybr announces the addition of Mrinal Wadhwa as Chief Technology Officer. Wadhwa's focus on leveraging data to drive human goals, and in building systems that intelligently deliver what a user wants, are a natural fit for Fybr, which has developed a highly-accurate sensor, gateway and network system that brings the Internet of Things (IoT) to parking management. Using real-time data, Fybr offers smart city solutions that include demand-based, dynamic pricing, enhanced parking availability as well as more effective parking enforcement technologies.
"We are excited to have Mrinal join our team as CTO," says Bob Glatz, Chief Executive Officer for Fybr. "His work in developing highly-available, distributed systems, scalable enterprise data architectures, machine learning algorithms, predictive modeling and text mining techniques is crucial in the IoT services environment in which Fybr is a market leader."
As CTO, Wadhwa will be responsible for providing leadership and management for all technical operations at Fybr, including network operations center tools and internal and customer-facing applications.
Wadhwa has a strong history of leading innovative teams in big data analysis and visualization, Glatz notes. Most recently executive vice president of big data at CloudThat, Wadhwa earned a Bachelor of Engineering in computer science from Manipal University in Karnataka, India. He has served as a SAP Mentor and has been recognized as an Adobe Community Champion.
A frequent speaker, Wadhwa is also a contributor to the growing community of Hadoop and Spark developers and presented recently at the Indian Institute of Management in Bangalore, India and at Hasgeek's jsFoo, India's premier national JavaScript conference.
About Fybr: Fybr is a world leader in parking sensor management solutions. By turning real-time data into useful information, Fybr helps communities become more vibrant, productive and inviting. From the world's largest cities to college and corporate campuses, Fybr remains committed to making communities of all kinds better places to live and work. Visit fybr-tech.com, or follow Fybr on LinkedIn, Twitter and Facebook.