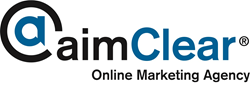 Duluth, MN (PRWEB) August 20, 2014
aimClear®, an internationally respected online marketing agency with offices in Duluth and St. Paul, Minnesota, was named to the Inc. 5000 list of America's fastest-growing privately held companies. Over a three-year period, the company experienced 345 percent revenue growth, securing the 1,258 spot on the list. Locally, the company placed 18th on the list of the 100 fastest-growing companies in Minnesota. This marks the third consecutive Inc. recognition for aimClear, following its 898 placement in 2013 and 463 Inc. 500 rating in 2012.
"We are pleased to achieve Inc. 5000 recognition for three consecutive years. Our growth is a direct result of our gifted employees, fantastic clients and a culture that inspires continuous learning that drives client results. As the industry evolves, we strive to lead our industry's thinking surrounding social, search, PR and psychographic display marketing trends," said Laura Weintraub, CEO of aimClear.
Since 2007, aimClear has experienced tremendous levels of growth in both clientele and employee count, including office expansions in both locations during the past year.
"Our goal has always been to be a future-forward online marketing agency, dominant in psychographic audience targeting, customer acquisition and classic creative values. We work hard to unearth industry developments before they occur and challenge ourselves to help shape the future," said aimClear Founder and Evangelist Marty Weintraub.
aimClear team members are fixtures on the international conference circuit – from London to New York, Jerusalem to San Francisco and Warsaw to Dallas. They have appeared in front of hundreds of search and social marketing conference audiences worldwide since 2007. Client credits include Firestone, Intel, Dell, Amazon, Travelocity, Macy's, eBay, GoDaddy, Eurail, 3M, SecondLife, Siemens, Victaulic, The Washington Post and numerous others.
In addition, aimClear has an award-winning company culture. The company was named a top workplace by Minnesota Business Magazine's 2014 100 Best Companies to Work, in which the company is a two-time award winner. Marty Weintraub is also the recipient of US Search Awards 2013 Search Personality of the Year and Joel Labovitz Emerging Entrepreneur award. aimClear's online marketing blog has been recognized as one of PRWeb's top 25 PR blogs, Cision's 10 top social media blogs, Technorati's top 100 business blogs and PostRank's top 50 SEO blogs.
Currently in its 33rd year, the Inc. 5000 is an exclusive annual list of the nation's fastest-growing privately held companies. The 2014 Inc. 5000 ranks companies based on revenue growth from 2010 to 2013.
# # #
About aimClear®
aimClear is a Minnesota-based online marketing agency widely regarded for its radically focused audience targeting, message testing and guerrilla conversion techniques. The agency is known for its bleeding-edge creative tactics and holistic approach to integrated use of social media channels and search. Having trained in-house and agency teams for years, aimClear's system for mapping real-world topical hubs, search data and user-clusters to social PPC has proven groundbreaking. The aimClear team consists of accomplished international speakers and industry thought-leaders. For more information, visit http://www.aimclear.com or contact us on Twitter @aimClear.