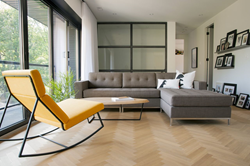 ...The simple forms and beautiful materials resonate so fully with our design-for-living concept.
Boston, MA (PRWEB) August 22, 2014
Design house and manufacturer Gus* Design Group has named Lekker Home their exclusive Studio Partner in Boston for the Gus* Modern Collection. This comprehensive collection of upholstered seating, dining sets, beds, accent furniture, lighting and accessories is at home in Lekker's expansive showroom, New England's destination for modern home furniture and décor and a national online retailer.
Lekker is launching the Gus* Modern Collection with an exclusive sale offering 20% off the entire collection including sofas, sleepers, sectionals, accent chairs, beds, tables, desks, benches, lighting, ottomans, accessories and more through August 31st.
"I've had my eye on Gus* Modern for a while," shares Natalie van Dijk, founder and curator of Lekker Home. "I knew I wanted to bring the entire collection to Lekker because the simple forms and beautiful materials resonate so fully with our design-for-living concept. The move to our larger showroom a year ago has made it possible to present the brand as we fully intended. It was worth the wait."
The Toronto-based design house and manufacturer has gained international recognition by providing form and function in their designs that mirrors the modernists of yesterday. Established in 2000, Gus* Design Group has recently embarked on a Studio Partner retail strategy to identify retailers who share the core value of offering design enthusiasts an authentic modernist aesthetic. As Amanda Schuler, Founding Partner of Gus* Design Group explains, "Lekker is a highly-desirable retail partner so we were very happy to keep in touch over the years and wait for the right opportunity to bring our entire collection to Boston."
Lekker Home is one of a select group of retailers in North America to be considered as a Gus* Studio Partner - a mark of commitment to the Gus* Modern Collection. The Studio Partner distinction provides design enthusiasts, architects and interior design professionals a Gus* Modern experience within the Lekker showroom experience including expanded display models, product information, swatches and design team assistance.
Gus* Design Group is a furniture design and manufacturing company based in Toronto. The Gus* Modern Collection, comprised of upholstered seating, dining, beds, accents, lighting and accessories, can be found at fine independent furniture showrooms across North America and select international showrooms.
Lekker Home is an award winning national retailer that embodies the Dutch sentiment "Lekker" - alluring, enticing and tempting – a collection of modern upholstery, furniture, tabletop, lighting, accessories, bed and bath for the edited home. Natalie van Dijk, an Amsterdam native and Founder of Lekker Home, provides interior design professionals and discerning homeowners alike a curated portfolio of mid-century modern, independent and exclusive brands that fosters a design-for-living lifestyle. Lekker Home was founded in 2003 with their flagship showroom in Boston and a national presence online. For more information please visit http://www.lekkerhome.com.