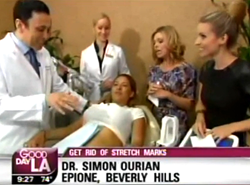 Los Angeles, CA (PRWEB) August 20, 2014
An Elle Magazine online report dated August 13, 2014 and titled "How to Keep Skin Looking Young at Every Age," offers a set of recommendations to help women of all ages maintain healthy skin. These recommendations are offered as a preventative skincare plan. The report offers age specific suggestions for women ages 25-45 and beyond. The first group of recommendations can be universally applied to men and women of any age and includes using sunscreen religiously, getting sufficient exercise and sleep, and eating well. (see:goo.gl/UFlXQe)
Dr. Simon Ourian, Medical Director of Epione Beverly Hills, performed a laser stretch mark removal treatment on Kim Kardashian on the Feb 23, 2014 episode of Keeping up with the Kardashians.
"I think the article provides some very useful information," says Dr. Ourian. "It's very easy to understand and I like the way it's broken down by age groups. It is important to note that the information provided is general in nature and that each person's skin has unique characteristics. Also it doesn't address conditions such as acne scars or body issues such as stretch marks."
According to the Elle Magazine report, the focus of the plan through age 25 should be hydration and then switch to prevention for ages 25-35. Included in the prevention category are Botox injections and skincare products containing Retinol and Retin-A. For ages 35-45 corrective actions are recommended to address wrinkles, fine lines, and the loss of facial volume. Suggestions here include dermal filler injections and gentle laser treatment.
"I appreciate that the ultimate goal of the suggested regimen is a natural, healthy look," concludes Dr. Ourian.
Dr. Ourian has been a pioneer in laser technology and non-invasive aesthetic procedures including Restylane, Juvéderm, Radiesse, Sculptra, and CoolSculpting. These treatments are used for the correction or reversal of a variety of conditions such as acne, acne scars, skin discoloration, wrinkles, unwanted fat, stretch marks, varicose veins, cellulite, and others. More information about skin care can be found on Epione's website.