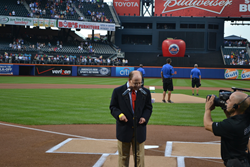 Brookville, NY (PRWEB) August 20, 2014
AHRC Nassau, an organization supporting more than 2,200 men and women with intellectual and developmental disabilities (I/DD) is pleased to announce that Adam Levine, a resident of AHRC Nassau's community residence program, will be singing the National Anthem at the New York Mets game on Tuesday, August 26th.
Adam has always been passionate about music and performing. Adam is well known in his hometown of Glen Cove, having performed for former Glen Cove Mayor, Ralph Suozzi at his inauguration ceremony in 2006. In addition, Adam performed for then- Senator Hillary Clinton when she was honored at AHRC Foundation's annual Rose Ball.
Having grown up in a time where institutionalizing children was still common, Adam's personal achievements and his ongoing service to help the hungry and homebound of our community serve to inspire. While to some it's just another night of baseball- another national anthem performance, it truly is a celebration of ability and perseverance.
Members of the media who are interested in covering this event, please contact Natalie Belva at 516-626-1000, x1303. Adam will be singing at Citi Field at 7:00 p.m. sharp.