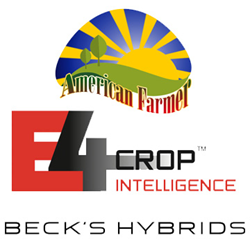 Jupiter, FL (PRWEB) August 22, 2014
American Farmer is proud to announce their latest episode airing on RFD-TV next Tuesday, August 26, 2014, at 8:30 a.m. ET.
This episode of American Farmer explores E4 Crop Intelligence, a company that represents the industry's first integrated precision ag support platform. The segment will explore how their single-system solution helps growers with their entire precision ag program. Viewers will learn about services and technology at E4 Crop Intelligence, as well as their ability to transform raw data into actionable crop intelligence.
Additionally, American Farmer will feature Beck's, the largest family-owned, retail seed company in the United States. Audiences will learn how Beck's strives to provide all customers with the tools needed to succeed on their farm.
"It's important to stay informed on the latest innovations and advancements today," said Charlie Cowan, producer for American Farmer. "This episode is jam-packed with important educational information."
About American Farmer:
American Farmer is a breakthrough program on a mission to showcase the latest advancements in agriculture and farming. From seed to harvest, livestock and more, our producers have traveled the country covering the people, places and issues impacting all areas of farm country.
American Farmer airs Tuesdays at 8:30 a.m. ET on RFD-TV as well as Tuesdays at 12:30 p.m. and Saturdays at 1:30 p.m. ET on FamilyNet.
For more information visit: http://www.AmericanFarmerTV.com. You can also contact Charlie Cowan at (866) 496-4065 x 875 or via email at Charlie(at)AmericanFarmerTV(dot)com.