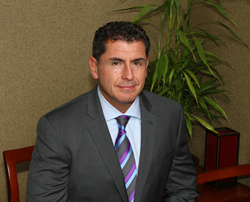 Tinton Falls, NJ (PRWEB) August 20, 2014
People experiencing gum recession can protect their oral health by visiting Dr. Jeffrey Zatzkin, a periodontist in Tinton Falls, NJ, for the Chao Pinhole Surgical Technique (PST™). This new type of receding gums treatment is minimally invasive, and lowers the likelihood of unwanted side effects, such as bleeding, discomfort, or infection. Patients who visit Dr. Zatzkin for gum recession treatment can reduce their risk of various oral health problems, from tooth decay to periodontal disease.
With PST™, Dr. Zatzkin does not have to remove healthy tissue, make large incisions, or place sutures; instead, he tackles gum recession directly by correcting the position of the receding tissue. To do this, Dr. Zatzkin makes a minuscule pinhole incision that a specialized instrument is inserted through. He then uses the instrument to loosen the gum tissue until it can be moved downward to protect more of the exposed teeth. Since the procedure is minimally invasive, most patients need little time to recover afterward. While people with widespread gum recession might require several gum grafts, Dr. Zatzkin can typically correct recession affecting several teeth in a single session with PST™.
Receding gums treatment can reduce tooth sensitivity and help stabilize tooth positioning. People who seek treatment can also identify the underlying cause of the recession. Sometimes, gum recession results from factors that are unrelated to oral health, such as hormonal fluctuations or genetic predisposition. Often, though, gum recession results from poor oral hygiene habits or oral health problems, including forceful brushing, infrequent brushing and flossing, or gum disease. These issues can cause damage to teeth and gums in addition to gum recession. People who visit a periodontist in Tinton Falls, NJ, for gum recession treatment can reduce their risk of experiencing additional oral health complications.
People who need receding gums treatment may notice visible symptoms of gum recession, such as the smile appearing toothy or the texture and color of the upper teeth appearing distinct from that of the lower teeth. Other warning signs include tooth sensitivity or increased tooth mobility. Anyone experiencing these symptoms is encouraged to contact Tinton Falls, NJ periodontist Dr. Jeffrey Zatzkin to schedule a consultation about PST™ or other treatment options.
About the Doctor
Dr. Jeffrey N. Zatzkin is a periodontist offering personalized dental care for patients in the Tinton Falls, Red Bank, Little Silver, Middletown, Rumson, Fair Haven, Monmouth Beach, Holmdel and Colts Neck, NJ areas. Dr. Zatzkin received his postgraduate periodontal certification at New York University College Of Dentistry in 1991. He received his DDS Degree from NYU as well. His undergraduate degree was from SUNY Albany where he graduated Summa Cum Laude. Dr. Zatzkin is a member of the American Academy of Periodontology, The American Dental Association, and The Academy of Osseointegreation, among others. Dr. Zatzkin believes in continuing education and strives to provide patients with the best periodontal care possible. To learn more about Dr. Zatzkin and dental services he provides, visit his website at http://www.drjeffreyzatzkin.com or call (732) 747-1766.