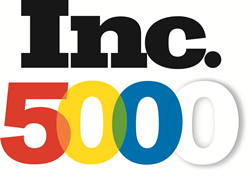 Atlanta, GA (PRWEB) August 21, 2014
The Rainmaker Group, a world leader in automated price optimization software and services for the multifamily housing and gaming/hospitality industries, is pleased to announce it has once again ranked in Inc. magazine's exclusive list of the nation's fastest growing private companies. This is the fourth consecutive year Rainmaker has earned the honor.
Driving this year's No. 2745 ranking was the Atlanta, Ga.-based firm's three-year revenue growth of 136 percent, up another six percent over its 130 percent gain from a year ago. The company has added 64 employees in the previous three years (2010 – 2013), which includes recent staff expansion in the Las Vegas market.
Rainmaker is one of only 10 software companies in the eleven-state southeast region of the U.S. and one of only 37 software companies in the entire country to earn a spot on the Inc. 5000 list four times.
As an Inc. 5000 honoree, Rainmaker once again shares a pedigree with Intuit, Zappos, Under Armour, Microsoft, Jamba Juice, Timberland, Pandora, Oracle, and other high profile alumni. On this year's list, Rainmaker also joins an elite group of new and progressive entrants, including GoPro, Bridger, Fuhu, Tough Mudder, and Lending Club.
"We're proud to once again be included in this elite group of fast-growing companies and prouder still of creating seven-and-a-half percent of the software sector jobs created by the Inc. 5000 between 2010 and 2013," said Bruce Barfield, Rainmaker CEO. "We're truly fortunate to have loyal customers who depend on our proven revenue management solutions to drive their top-line pricing. The business climate has been so strong of late that our customers are more reliant than ever on our solutions to help ensure they consistently and accurately forecast demand and optimally price to achieve the highest profitability from their assets."
Tammy Farley is president and co-founder of Rainmaker. "This award never gets old. It's a real testament to the strength of our company and our ability to provide proven, results-oriented profit optimization solutions.
"We're very proud of our record of customer retention. Customers continue to tell us that Rainmaker's a trusted advisor because our people are revenue experts who know their products and they're 100-percent focused on helping them drive results. We don't push or hard sell our services, but rather work hard to build and maintain relationships that last. This approach comes naturally to us and resonates with customers. It's one of the reasons, I believe, our customers don't ever leave us.
"We pride ourselves on being 24/7 accessible, highly responsive and very receptive to new ideas and input from our customers. Over the years, a number of them have told us they feel these characteristics are what make our relationship with them a true partnership, not a stiff, formal, corporate-structured affiliation interested only in driving transactions to their bottom line."
Earlier this year, Rainmaker earned its second consecutive Pacesetter Award from the Atlanta Business Chronicle as one of Atlanta's 100 fastest growing private companies. The award is given to privately owned businesses that are based in the 20-county Atlanta metro area and are not a subsidiary of another company. Honorees must have had 2013 revenue between $1 million and $300 million; and must have two-year growth in sales of more than 50 percent.
The Inc. 5000 companies, which include The Rainmaker Group, are now included on Inc.com and will celebrate at the 33rd Annual Inc. 500|5000 Conference and Awards Ceremony to be held October 15-17, 2014, in Phoenix, Ariz.
Inc. Methodology
The 2014 Inc. 5000 list is ranked according to percentage revenue growth when comparing 2010 to 2013. To qualify, companies must have been founded and generating revenue by March 31, 2010. Additionally, they had to be U.S.-based, privately held, for profit, and independent – not subsidiaries or divisions of other companies – as of December 31, 2013. The minimum revenue required for 2010 is $100,000; the minimum for 2013 is $2 million.
About Inc. Magazine
Founded in 1979 and acquired in 2005 by Mansueto Ventures LLC, Inc. (http://www.inc.com) is the only major business dedicated exclusively to owners and managers of growing private companies that delivers real for today's innovative company builders. Inc. delivers advice for businesses and management, which includes sales, marketing, technology, finances and running and growing a business.
About Rainmaker
The Rainmaker Group is the market leader in profit optimization solutions for the Multifamily Housing and Gaming & Hospitality industries. Rainmaker software, coupled with professional business consulting services, enables multifamily housing operators to maximize revenue from apartment leases and helps operators of hotels and casino hotels secure the most valuable customers to increase their profitability. An innovator and thought leader in the highly specialized revenue optimization field, Rainmaker leverages cutting-edge research to bring clients the most sophisticated systems and help them achieve the highest profitability from their assets. Multifamily housing clients include leaders such as AvalonBay Communities, Equity Residential, Gables Residential, Post Properties, MAA and more. Gaming/Hospitality clients include leading casino/hotel organizations such as Atlantis The Palm Dubai, Caesars Entertainment, MGM Resorts International, Omni Hotels & Resorts, Wynn Las Vegas and many others. A Microsoft Silver Certified Partner headquartered in northern Atlanta, GA, Rainmaker has for four years running ranked on the Inc. 5000 list among America's top fastest growing, privately held companies. For more information, visit http://www.LetItRain.com.
##
For further information, contact:
Nancy Nevins, Director of Marketing
The Rainmaker Group
(678) 578-5728
Media Contact:
Greg Houston, Principal
DeanHouston, Inc.
(513) 455-6314