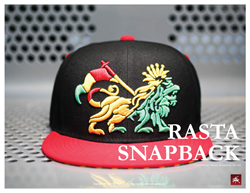 Carlstadt, NJ (PRWEB) August 21, 2014
When one sees the colors of green, yellow and red together, most know that they symbolize Rastas or Bob Marley. But what they might not know is that each color has its own unique meaning. The color green represents the homeland of Rastas, Ethiopia, which is characterized by plush grass, gravel and sand. It is also a call to action and reminder that the Earth needs constant nurturing and protection. The color yellow represents the sun and light radiating warmth for humans to live. And finally, the color red symbolizes the blood Africans and Jamaicans shed fighting for equality and fairness after years of oppression and struggle.
In the U.S., many support or take part in the Rasta movement and wear the colors proudly while others wear similar colors representing the Jamaican flag. One thing that everyone can come together on while wearing these colors is that Jamaica is all about the popular mantra, "One Love." Keeping up with the latest trends, City Hunter Cap USA, qualified headwear brand for all ages and occasions, has recently added a variety of all new Rasta snapback hats to their headwear collection online.
City Hunter Cap USA's Rasta Hats come in a variety of styles including snapbacks, 6 Panel short visors and beanies. They also offer classic emblems of Rastas and Jamaica on their hats, such as the Lion of Judah and the Rastafarian Flag. Prices range from $16.99 – 19.99 and low cost standard or expedited shipping are offered so that shoppers are able to receive their hats as quick as possible.
These and City Hunter Cap USA's other product selections are widely popular among the skateboard community, musicians, artists, bikers and fashionistas across the world. The company prides themselves in being involved in the community and offering selections that all age groups and demographics can identify with. They are pleased to begin to offer this trendy design to their vast product selection of headwear online. For more information please visit their website at http://www.cityhuntercapusa.com.
About City Hunter Cap USA
Since 1991, City Hunter Cap has offered unique headwear for all ages, nationalities and genders across the globe. Headquartered in New Jersey, the company has grown immensely since its beginnings and prides itself on the mission to "Be REACH-able," epitomizing their main goal to reach out to anyone, anywhere. Today they are one of the top headwear companies worldwide, providing unique and custom designed hats such as, Fedoras, Cadet Hats, Snapbacks, Bucket Hats, 5 Panel and Floppy Hats. Their unique positioning of offering quality designed hats at wholesale costs and exceptional customer service, enables them to stand out from their competitors. Currently, they are helping grow the popularity of headwear nationally by offering diverse selections for any person or occasion. To find out more about City Hunter Cap USA or shop their products online, please visit their website at http://www.cityhuntercapusa.com, Facebook or Twitter.