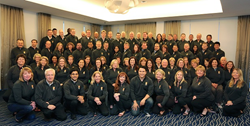 We are honored to receive this recognition and appreciate our associates' passion and dedication to our vision: a world with better healthcare. - Daniel S. Herman, Founder and Managing Principal, Aspen Advisors
Denver, CO (PRWEB) August 21, 2014
Aspen Advisors, a U.S.-based healthcare consulting firm, announced today that it has been selected as one of Modern Healthcare's Best Places to Work in Healthcare for 2014. This annual program recognizes employers in the healthcare industry for creating workplaces that enable employees to perform at their optimum level. Results are solely based on employee responses to an employee engagement and satisfaction survey. This is the fourth consecutive year that Aspen has been named a "Best Places to Work in Healthcare".
"We are thrilled to be named on this prestigious list again as it truly demonstrates the commitment and excellence of our associate team," said Daniel S. Herman, Founder and Managing Principal at Aspen Advisors. "We are honored to receive this recognition and appreciate our associates' passion and dedication to our vision: a world with better healthcare. We are proud to have built a culture where our associates are empowered, supported, and engaged with work that provides professional growth and successful engagements with our clients."
The complete "Best Places to Work in Healthcare" non-rank, alphabetical list of recipients is available here. Specific rankings will be announced at an awards gala on October 27th in Chicago.
About Aspen Advisors
Aspen Advisors is a professional services firm with a rich mix of respected industry veterans and rising stars who are united by a commitment to excellence and ongoing dedication to healthcare. We work with healthcare organizations to optimize the value of their information technology investments. Our experienced team is highly skilled in all aspects of healthcare technology. We understand the complexities of healthcare operational processes, the vendor landscape, the political realities, and the importance of delivering projects successfully – the first time. Every client is important to us, and every project is critical to our reputation. Established in 2006, the firm has earned accolades for our culture, service delivery, and growth. Aspen Advisors was named one of Modern Healthcare's "Best Places to Work in Healthcare" in 2011, 2012, and 2013 and earned several honors from Consulting magazine, including being named a "Best Firms to Work For" in 2012 and one of the "2014 Seven Small Jewels". Our hallmarks are top quality service and satisfied clients; we're proud of our KLAS rankings and that 100% of our clients are referenceable. Learn more at http://www.aspenadvisors.net. Follow Aspen on Twitter at http://www.twitter.com/AspenAdvisors.