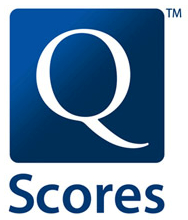 (PRWEB) August 21, 2014
Q Scores announces the release of its second Performer Q study of 2014.
This semi-annual report, conducted in January and July, covers over 1,800 living personalities including movie actors, chefs, primetime stars, newscasters, consumer reporters, program hosts, musical performers, sports personalities, comedians, models, and many more.
The Performer Q study covers a variety of categories providing valuable engagement norms for all of these personalities. The data enables clients to make informed decisions about the demographic appeal of a specific personality as well as to examine which celebrities best resonate with their target consumers and which ones would present substantial risk for advertising, promotion, licensing or sponsorship projects.
The results for each personality in Performer Q are based on the evaluations of nationally representative samples of children (6-11), teens (12-17) and adults (18+). In addition to general population demographics, data is also available among social media users, movie goers, and TV viewers. The historical database for the study includes over 25,000 personalities with available trends dating back to 1964.
For more information, visit http://www.qscores.com/Web/personalities.aspx. If you'd rather speak to someone at Q Scores over the phone about your specific needs call Henry Schafer at 1-516-365-7979.
About Q Scores
Q Scores is the recognized standard for measuring the appeal of licensed properties, personalities, brands, characters and programs. Q Scores metrics identify the most enthusiastic and emotionally connected consumers of a personality, character or licensed property, program, or brand.
Derived from our data collection model of the Favorites Concept, Q Scores metrics are an important predictor of greater consumer involvement. Understanding how these consumers are impacted, enables clients to make the most informed decisions regarding their marketing, advertising, and media efforts.
Each Q Scores category in our databases provides a wide variety of demographics for pinpointing target consumer appeal across age, gender, household income, market size, region, race, ethnicity, presence of children and other key characteristics. We offer a variety of custom research options for more precise target market analyses.
In addition to providing consistently accurate and reliable data, our top level staff has the experience and expertise to analyze and interpret the information relative to clients' specific needs. We are readily available by phone or email to guide our clients with our unmatched and unbiased counsel and analytical support.