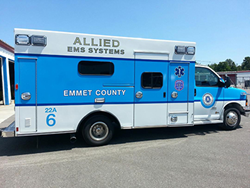 Van Wert, Ohio (PRWEB) August 22, 2014
Braun Ambulances and their Michigan dealer, Kodiak Emergency Vehicles, worked with Allied EMS Systems, Inc. to deliver new units to the organization in July 2014. As a custom ambulance manufacturer with over 40 years of experience, the Braun team worked closely together with Kodiak representatives and Allied EMS Systems, Inc. to meet the customer's detailed specifications. Safety was a top priority for Allied EMS; they wanted a unit that would keep occupants seated and belted while inside working, as well as offer enhanced visibility and functionality on the outside of the ambulance. The result was an emergency vehicle that the manufacturer, dealer, and end-user can be proud of, and one that will safely serve their community for years to come.
The two new units are a Braun Chief XL ambulance model mounted on a GMC 4500 chassis. The inside of the ambulance has three "captain's chairs" with 4-point harnesses. Drawers, cabinets, and electrical control panels can be accessed from the seated positions. There are also seamless Multispec painted walls, brackets to hold down equipment, angled and ceiling mounted LEDs to help prevent shadows on the patient, and a Stryker PowerLoad system.
The outside of the ambulance features a transverse compartment for backboards, so the crew can have access from either side, away from traffic. There is also an O2 compartment sized specifically to fit only the O2 bottle, a sliding door to allow the crew easy access when parked on the shoulder or tight areas, a roll-up door to access the ALS compartment from standing outside of the vehicle, and a reflective graphics package that will catch the eye both day and night.
Michael Wolf, Operations Area Manager for Allied EMS Systems, Inc. in Harbor Springs, Michigan, has been in the Emergency Management Services for the past 21 years. When asked about his experience with working with Braun and Kodiak Emergency Vehicles, Michael said: "The experience was exactly what I expected it to be, perfect. We had our initial meeting with Braun and Kodiak, explained what we wanted to accomplish in regards to safety for our crew and patient, and the team went to work. Ahren Taszreak worked with the Braun engineers to translate all of our needs, and once we received the prints for the vehicles, it was not long until we had them dialed into exactly what we were looking for. It is great to work with an ambulance manufacturer that will design a vehicle to meet our needs - instead of a manufacturer telling us what they think we need."
Chad Brown, VP of Sales and Marketing at Braun Industries, said, "The Allied EMS design, along with some of the Braun standard features such as the all-aluminum fully welded Solid Body, fully Welded-in Aluminum interior cabinetry with rounded corners, and VitalMax interior lighting, gave birth to an ambulance that will keep the occupants safe. It was great to work with Michael Wolf from Allied and Ahren Taszreak from Kodiak Emergency Vehicles during the conception and design of the ambulance. They both have a lot of experience in the industry and it was a delight to see them work with the Braun team to come up with such a great design."
Ahren Taszreak, VP of Sales and Operations for Kodiak Emergency Vehicles – Michigan's Emergency Vehicle Dealer, has the experience of working directly for ambulance and fire truck manufactures and with this experience understands what it takes to translate the customer's needs to Braun's engineers. Mr. Taszreak commented, "Michael from Allied knew exactly what he was looking for and the engineers at Braun quickly produced custom prints to meet these needs. The trucks are just finishing up some of their final prep prior to going into service and I can't wait to hear the feedback from the crew after they have the experience working in the ambulances".
Braun Industries extends a sincere "Thank You" to Allied EMS Systems, Inc. for their business, as well as Kodiak Emergency Vehicles for their exceptional partnership.
# # #
If you'd like more information about the Allied EMS units, or to schedule an interview with Chad Brown, please call Chad at 419-232-7054 or email ChadB(at)BraunAmbulances(dot)com.
About Braun Industries:
Braun Industries, Inc. is a leading emergency vehicle manufacturer that has been designing and building custom ambulances that are "Built for Life" since 1972. Braun's ambulance models offer exclusive innovations such as SolidBody™ Construction, the EZ-Glide™ Sliding Door, the MasterTech™ IV Multiplex Electrical Control System, and the VitalMax™ Lighting System. Braun is a member of the National Truck and Equipment Association (NTEA), the Ambulance Manufacturers Division (AMD), and the National Fire Protection Agency (NFPA). Their 2014 lineup features seven unique ambulance models, including The Responder, Signature Series, Patriot, Super Chief, Chief XL, Liberty, and Express. The company is headquartered in a 105,000 square foot facility on 13 acres in Van Wert, OH.
For more information, visit http://www.BraunAmbulances.com.
About Kodiak Emergency Vehicles
Kodiak Emergency Vehicles is a subsidiary of Kodiak Emergency Equipment, Inc. and is a family-owned and operated ambulance and fire truck dealership located in Lansing, Michigan. Kodiak is a Michigan "Class-A" licensed dealer (#A003593) and represents only the best in class ambulance and fire apparatus manufacturers. They are partnered with service centers in strategic areas across Michigan to give their customers the option of having local service, and their dedicated sales team is located throughout the state of Michigan. Kodiak Emergency Vehicles – Michigan's Emergency Vehicle Dealer
About Allied EMS Systems, Inc.
Allied EMS Systems, Inc., organized as a 501 ©3 non-profit corporation. They provide compassionate, high quality, pre-hospital emergency medical care to those visiting and residing in portions of Emmet County, Charlevoix County, Mackinac County, Presque Isle County, and Antrim County, Michigan. Each regional facility provides in-house staffed Advanced Life Support response capability and is financially supported by local units of government and managed by Allied EMS Systems, Inc. The organization operates a fleet of 16 custom-designed ambulances.