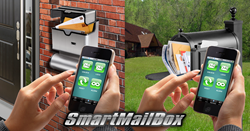 Windsor ontario (PRWEB) August 26, 2014
Today Hassan Hammoud, founder of SmartMailboxes Inc., introduced his original mailbox design which includes smart features and security thanks to its quality materials and state-of-the-art technology.
The SmartMailbox is a mailbox with multiple user-friendly features.
The SmartMailbox includes an indoor monitor and a remote which the owner can use to unlock the mailbox for mail retrieval. The indoor monitor indicates when the mailbox is full through both a chime and an indicator light. Using the SmartMailbox remote, indoor monitor, or smartphone app the owner can unlock and reset the electromagnetic lock which secures the unit.
The SmartMailbox provides security that is unsurpassed.
The SmartMailbox is made of highly durable materials and features an electromagnetic lock which will withstand any tampering. If the mailbox is tampered with a built in alarm will sound to ward off further action.
Sleek designs for both urban and rural use.
The SmartMailbox is available in two designs which reflect the lifestyle of both urban and rural dwellers. A sleek, compact, wall secured design provides the urban or suburbanite with an elegant mailbox which lends both style and security to any home. The classicallystyled rural model comes with a secure mounting post made of the same durable materials as the mailbox.
Multiple features for maximum ease of use by multiple users.
Along with the indoor monitor which can utilize all the features of the mailbox, the SmartMailbox comes with a remote which has been programmed to allow the user to lock, unlock, or reset the mailbox. Users can also access all the mailbox's features through an app on their smart phone or mobile device. All SmartMailboxes are battery operated so you have choice in where you install them. No electrical work or knowledge is needed.
The SmartMailbox is know available on Kickstarter.