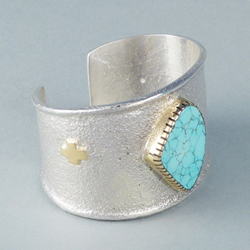 'I don't create the jewelry. It's like the beauty of the stones direct me how to use them.' - Sonwai
Santa Fe, NM (PRWEB) August 20, 2014
Hopi artist Sonwai will be exhibiting work at Shiprock Santa Fe gallery during Indian Market week, with a special opening event Thursday, August 21, 2 – 4 p.m. at the gallery. Sonwai is the artistic name used by Verma Nequatewa.
Verma began working with her uncle, the late Charles Loloma, in the mid-1960's and continued working with him, becoming his stone-setter, until his studio closed in the early 1990's. Loloma was the most famous Native American jewelry artist of his time. After Loloma's studio closed in 1988, Sonwai opened her own studio and has been continuing his teachings through her own jewelry.
"My life and my jewelry have been greatly influenced by two things," Sonwai says. "The first is by my good fortune to have grown up and to continue to live on the Hopi Reservation. This enables me to witness the grandeur of the landscape on a daily basis and to be involved constantly in the ceremonial activities that are constantly taking place here. The second major influence is that of my uncle, Charles Loloma."
Sonwai has brought her own special look and feminine qualities to her jewelry line. A world class jeweler who works primarily in 18 karat gold, she uses only the finest quality stones, including but not limited to coral, turquoise, lapis lazuli, opal, charolite, ironwood and sugilite, as well as diamonds, colored pearls and fossilized ivory. Using a variety of inlay and metal-working techniques, Nequatewa creates her elegant contemporary jewelry for private collectors and museum institutions around the world.
"The most important thing that I learned was about the stones themselves," Sonwai says. "How to work the stone and study the stone. Actually, I don't create the jewelry. It's like the beauty of the stones direct me how to use them."
The event Thursday, August 21, 2–4 p.m., is free and open to the public. Shiprock Santa Fe gallery is located on the corner of the Santa Fe Plaza, 53 Old Santa Fe Trail, 2nd floor.
For press inquiries, contact:
Suzanne O'Leary
JLH Media
505 490 9116
suzanne(at)jlhmedia(dotcom
###
About Shiprock Santa Fe Gallery
Founded in 2006, Shiprock Santa Fe gallery is the capstone creation for fifth generation trading post owner Jed Foutz. Raised on the Navajo Reservation, Foutz has a studied eye and impeccable aesthetic that gives Shiprock Santa Fe both a vintage and modern appeal that attracts top fashion buyers, designers, filmmakers, and renowned art collectors. Mixing Mid Century Modern design with antique and contemporary Native art, Shiprock Santa Fe gallery has become a resource for internationally known artists and designers. The gallery features a considerable inventory of historic Navajo textiles and turn of the century silver and turquoise jewelry, as well as the work of some of the most well known artists in contemporary Native art. Foutz has carefully cultivated a collection of pieces ranging from vintage furnishings by George Nakashima, vintage and contemporary pottery, basketry, fine art, and eclectic finds from Jed's world travels. Shiprock Santa Fe's knowledgeable staff is well versed in the material and provides both acquisition and appraisal services, working with clients looking to acquire a single collectible or build corporate or personal collections.
For more information, please visit https://www.shiprocksantafe.com/.