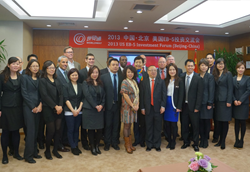 A great trip to meet with Chinese business partners and migration agents.
Chicago, IL (PRWEB) August 21, 2014
Artisan Business Group Inc., will lead the 3rd Annual EB-5 Business & Investment Exploratory Delegation to southern China October 12-19, 2014. The 2014 EB-5 Delegation provides a unique opportunity to explore the rapid growing cities of Shenzhen and Guangzhou. This trip is specifically organized so each delegate will have the rare opportunity to meet with major Chinese migration agents and businesses to discuss their project(s) during a short weeklong time frame.
The trade mission activities include: meetings with leading migration agencies; meeting with potential business and funding partners; "The Evening of Shenzhen" private reception with emigration agents, EB-5 investors, local business executives; and other private activities and business functions. The core objective is bringing US business executives to meet their potential EB-5 partners in China.
Without the proper knowledge of market and cultural differences, international business can prove to be intimidating and frustrating. The trade mission is to provide US businessmen with the tools to navigate through international barriers with success and confidence. Success in china is built upon principles such as trust, respect, and character. Artisan Business will provide expertise in identifying and setting appointments with business partners what will meet prospects goals.
Artisan Business Group, Inc., is a leading US China cross border investment and business advisory firm headquartered in Springfield, IL, with EB-5 project clients throughout the country. Whether there is a current need for migration agents or a business seeking to explore future possibilities, lasting productive working relationships start here. For more information, please log on to http://www.EB5NewsBlog.org.
Press Contact:
Mr. Tyler McKay
1.217.899.6661
Artisan Business Group, Inc.
http://www.EB5NewsBlog.org