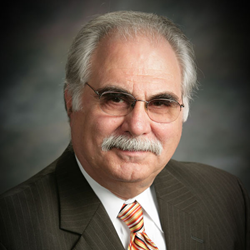 (PRWEB) August 21, 2014
Fenstermaker's President, Kam Movassaghi, P.E., PhD, is scheduled to appear on the Louisiana Public Broadcasting (LPB) station on Wednesday, August 27th. Invited to serve as a guest panelist for LPB's upcoming Louisiana Public Square program, the veteran engineering professional and leader will participate in the segment entitled, "Down the Road: Our Transportation Future." The special episode, featuring a panel discussion on the future of transportation in Louisiana, will examine the current issues facing diverse infrastructural systems across the state. The LPB telecast will air statewide at 7 p.m. and at 9 p.m. on News Orleans' channel WLAE.
One of the main discussion topics and rising concern within the industry is the discrepancy between funds designated to transportation and the actual money allocated for its preservation. Louisiana obtains an annual $630 million in federal highway support, as well as a 20-cent state tax from each gallon of gasoline purchased. However, the current State budget siphons a substantial portion from its Transportation Trust Fund into covering the costs of other civic institutions. Furthermore, the total annual capital invested specifically on infrastructure throughout Louisiana has declined in recent years from traditional averages. This matter has become crucial in the eyes of transportation professionals and officials throughout the state, as Louisiana's economic health, progress and quality of life may come under increasing risk over the next 30 years.
The dwindling of capital specifically assigned to transportation matters contrasted with the growing population and public profile of Louisiana is especially alarming and a major obstacle in its continued prosperity. As challenges in funding rise, so have questions concerning the State's management of its various public programs and works. In particular, agency and business experts will address queries about what its transportation priorities are versus what they should be, whether the present gasoline sales tax is sufficient, and if it is time for the development of a new monetary stream at both the state and federal level.
Well-experienced and versatile in infrastructure and engineering practices, Dr. Movassaghi is a veteran professional, notable expert and honored leader within the Louisiana transportation community. Before assuming his active position as President of Fenstermaker, Dr. Movassaghi served as Secretary of the Louisiana Department of Transportation & Development (DOTD) from 1998-2004. Earlier in his career, he presided over the University of Louisiana's (UL) Civil Engineering Department. Having extensively taught engineering principals, as well as operated and managed diverse projects, Dr. Movassaghi is a prime candidate for LPB's program on present and future transportation affairs within the State.
Additional prominent Louisiana officials and transportation proponents will join Dr. Movassaghi as guest panelists for "Down the Road: Our Transportation Future." The group comprises Senator Robert Adley, R-Benton (Chair of the Senate Transportation Committee), Rachel DiResto (Executive Vice President of the Center for Planning Excellence [CPEX]) and Representative Karen St. Germain, D-Plaquemine (Chair of the House Transportation Committee), promising to make this particular Louisiana Public Square special a memorable event. Robert Travis Scott, President of the Public Affairs Research (PAR) Council of Louisiana, will moderate the discourse, and the majority of questions or topics to be examined will come from the audience.
***Fenstermaker is a multi-disciplinary firm specializing in Survey & Mapping, Engineering, Environmental Consulting, and Advanced Technologies. We have over 300 team members providing professional services through multiple office and field locations across the U.S. Our company mission is to be a vital partner in the success of our clients.