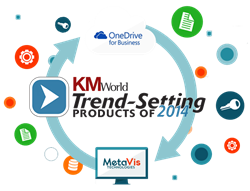 Philadelphia, PA (PRWEB) August 25, 2014
MetaVis Technologies, the market leader in modern content management solutions for Microsoft Office 365 & SharePoint, today announced that the OneDrive Management Suite has been named a 2014 "Trend-Setting Product" by KMWorld Magazine. This is MetaVis' second time being honored for an award by KMWorld Magazine, which will be publicized in the September issue of the publication.
KMWorld's Trend-Setting Products award, now in its 12th year, is an annual listing of enterprise technology products that clearly demonstrate identifiable technology breakthroughs and deliver exceptional value. This year, more than 700 products were assessed by KMWorld's judging panel, which consists of editorial colleagues, analysts, system integrators, line-of-business managers and technology end-users.
MetaVis was specifically recognized for OneDrive Management Suite, which allow users to mass migrate, analyze, administer, backup and secure information stored in Microsoft Office 365 OneDrive for Business. From a central console, users can:

Mass migrate data from files shares, Google Drive, Box and/or SharePoint
Report on who is sharing what with others both inside and outside the organization
Scan content for information such as PII, PHI, HIPAA or other regulatory sensitive data
Backup records to cloud or on-prem storage & restore individual documents
Take actions on drives such as port permissions or quarantine data
When combined with the other modules on the MetaVis Platform, IT now has a way to exercise control over the place where 85%+ of an organizations information is stored as well as drive greater productivity from their Microsoft Office 365 and on-prem investments.
"MetaVis is relentlessly looking for ways to add value to organizations process in managing the explosion in document data. OneDrive Management Suite reflects this hyper focus on innovation and commitment to extending the capabilities of control in the cloud," said Damon Tompkins, Vice President of MetaVis. "We are honored by KMWorld's recognition that MetaVis continues to set the industry standard for innovation in the management of data."
For more information on our award-winning solution:
Download a free trial of MetaVis OneDrive Management Suite.
Learn more about OneDrive Management Suite.
Visit the MetaVis Blog.
About MetaVis
MetaVis Technologies is a Microsoft Gold certified ISV that develops software that enables information-driven organizations to analyze and manage their content.
The MetaVis platform helps organizations analyze, migrate, backup, administer, and secure their environments. Whether it is Office 365, SharePoint, Azure, Exchange and OneDrive, file/network shares, Google Drive, or another cloud-based content destination, we help take the complexity out of migrating and managing your content. MetaVis products are agentless, easy to use, and provide immediate value to your business.
Whether in the cloud or the data center, helping you analyze, manage, and protect your content is our passion.
Let MetaVis help you know your content!
About KMWorld
KMWorld (http://www.kmworld.com) is the leading information provider serving the Knowledge Management systems market and covers the latest in Content, Document and Knowledge Management, informing more than 40,000 subscribers about the components and processes - and subsequent success stories - that together offer solutions for improving business performance.
KMWorld is a publishing unit of Information Today, Inc. (http://www.infotoday.com)