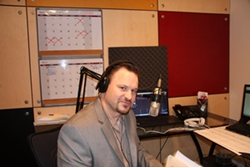 New York, NY (PRWEB) August 21, 2014
Recently nominated as the Women's Radio Network's "Top Host", KC Armstrong has been on quite the journey to be the man he is today. Growing up, KC was greatly influenced by his mother and has always had a positive look on women, respecting them as professionals and individuals. Through his struggles to come out on top, KC owes gratefulness and thanks to a man who he had the pleasure of working very closely to for a number of years, Howard Stern.
KC Armstrong's name will ring a bell to most of you who, like many other fans around the world, would tune in and listen to "The Howard Stern Show" for over a decade. He has made numerous public appearances on E! Entertainment and CBS, as well as famous comedy clubs, working side by side with comedians such as Dane Cook. However, Howard Stern has always been a huge supporter of KC Armstrong and gave him countless memories which have helped him build his expertise as a radio host and producer. KC Armstrong wishes to sincerely thank Howard Stern for the amazing opportunity and continued support he provides to KC.
By overcoming obstacles and persevering reputations, KC will never stop rising to the top. He has taken his dedication and expertise in the radio show industry to another level by becoming a part of the Women's Radio Network, WRNW1's, family.
Working alongside other wonderful hosts such as Spokeswoman, Robyn LaJoya Charles, Ray Charles's daughter and Dr. Joyce Buckner, the love doctor who has made several appearances on The Oprah Winfrey Show; KC knows the powerful impression professional women give to the world and he is one to help support them and encourage them to shine. By interviewing these women on a global networking platform, WRNW1 allows women to participate in online radio shows, online seminars, and special online events; to help empower other women and listeners to strive to the top.
Be sure to visit http://www.wrnw1.com, where additional information on the WRNW1 can be found. For all media inquiries or for interviews with KC Armstrong, please contact Richard Lewis at (888) 460-2226 or email at press(at)wrnw1(dot)com.
###