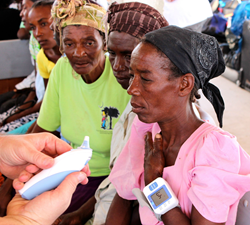 The 'objective being to describe the symptoms and morbidity during the recent outbreak in Haiti so that medical personnel unfamiliar with the disease may be more adept at the diagnosis and treatment of chikungunya.'
Nashville, TN (PRWEB) August 21, 2014
There are several mosquito-born viruses and diseases that are prevalent throughout Haiti. Among the most severe are malaria, dengue fever and most recently, chikungunya. Chikungunya is a virus that is transmitted to humans by the day-time biting mosquitoes, the Aedes aegypti mosquito and the Aedes albopictus mosquito. The most common symptoms of chikungunya are high fever and severe joint pain. Other symptoms include headache, joint swelling, rash and nausea. The name "chikungunya" is derived from a word in the Kimakonde language, meaning "to become contorted" and describes the stooped appearance of sufferers with joint pain. (WHO.org)
Chikungunya was first discovered in Tanzania in 1952. Since that time, the disease has spread throughout Africa, Asia and the Indian subcontinent, infecting thousands at epidemic proportions. Chikungunya reportedly hit the Caribbean in 2013, with a mass outbreak striking Haiti in early 2014.
Dr. David Vanderpool is a trauma surgeon from Nashville, TN who now resides in Thomazeau, Haiti, where he oversees his medical non-profit organization, LiveBeyond. Dr. Vanderpool conducted a study in the peak months of the outbreak from May 2014- July 2014. He stated his "objective being to describe the symptoms and morbidity during the recent outbreak in Haiti so that medical personnel unfamiliar with the disease may be more adept at the diagnosis and treatment of chikungunya."
The LiveBeyond medical clinic currently serves approximately 900 people each month in the Thomazeau region who have little to no access to health care. From May 2014 to July 2014 the LiveBeyond clinic tracked the patients coming into the clinic with chikungunya symptoms. During this study period, 61 patients were diagnosed. The average age in this study was 19 years old with a range from 1 month to 60 years of age. The average temperature was 102.5 F with a duration for 3.5 days. Each adult affected with the disease complained of fever and had bilateral, symmetric and distal severe joint pain. The children had a more variable presentation including bullous lesions on the palms and soles in 8/36 and abdominal pain in 5/36. Overall, 26% experienced and erythematous maculopapular rash. Approximately 16% affected experienced chronic symptoms that lasted a month or longer. There was no mortality in this study.
At this time there is no vaccination for chikungunya. Those infected with the disease are urged to drink plenty of fluids and treat the fever and joint pain with Acetaminophen.
Dr. David Vanderpool was born in Dallas, TX and received his undergraduate degree from Abilene Christian University. He attended medical school at Texas Tech University School of Medicine and went on to complete two surgical residences at Baylor University Medical School. He practiced medicine for over 20 years before moving to Haiti to do medical mission work following the devastating earthquake of 2010. He now resides outside of Port au Prince in Thomazeau, Haiti, with his wife, Laurie Vanderpool. Together they oversee the daily operations of their organization, LiveBeyond.
LiveBeyond encompasses medical care, nutrition, maternal health, orphan care, education, agriculture, clean water and care for the most vulnerable. Within each of these ministries, LiveBeyond provides hope and prayer to the people of Haiti. LiveBeyond's mission statement says they are "an organization that chooses to LiveBeyond...ourselves, our culture, our borders & this life so that others can LiveBeyond...disease, hunger, poverty, & despair."