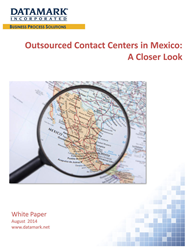 El Paso, Texas (PRWEB) September 06, 2014
DATAMARK, Inc., a leading provider of business process solutions, including bilingual (English/Spanish) contact center services, has released a white paper that examines the topic of outsourced contact centers in Mexico.
Many companies and organizations that operate multichannel contact centers to serve customers by voice, email, web chat and social media have indicated they are shifting some outsourced contact center activity away from traditional destinations such as India and the Philippines.
One destination of interest is Mexico, which offers a number of benefits, including cost savings and geographic proximity.
"Outsourced Contact Centers in Mexico: A Closer Look" examines these benefits, particularly those that can be gained by outsourcing contact center services along the Mexican border states, where there is a large workforce of bilingual English/Spanish speakers with neutral accents and a broad knowledge of U.S. culture.
The paper also highlights several recent initiatives launched by the Mexican government to welcome international business and foreign investment.
The paper is available for complimentary download at this link:
http://info.datamark.net/OutsourcedMexicoCC.html
About DATAMARK
DATAMARK, Inc. is a leading business process outsourcing company specializing in high-volume digital mailroom management, document processing/document management, bilingual (English/Spanish) contact centers and process improvement consulting for Fortune 500 companies and other large enterprises.
Headquartered in El Paso, Texas, DATAMARK employs nearly 2,200 people in its U.S., Mexico and India facilities. For more information, visit http://www.datamark.net. Follow industry news and trends at DATAMARK's Outsourcing Insights blog at http://www.datamark.net/blog.