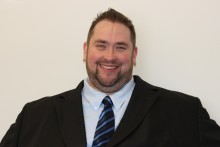 Cherry Hill, NJ (PRWEB) August 21, 2014
When it comes to retirement planning, people deserve guidance from someone who puts their financial goals and well-being first. Safe Money Resource recognizes the importance of this and has developed a small network of qualified experts who are committed to carefully educating their clients about the investment options at their disposal. Todd Kiry of Hammonton, New Jersey, is the latest retirement planning specialist to receive Safe Money Resource's endorsement as a "Safe Money Approved" advisor.
Kiry is the President of Hammonton Financial, a firm of capable advisors with over 45 years of combined experience in the financial services industry. He leverages well over a decade of personal experience, a time period in which he has helped many people approaching retirement reach lasting financial security.
In his practice, Kiry focuses on a client's personal and financial objectives before even delving into the planning process. He recognizes that everyone's circumstances are unique, so he carefully evaluates their unique case details before discussing any investment strategies. Ultimately, Kiry reinforces that the financial plan chosen must line up with the client's current and future goals as well as with the other components of the client's financial picture.
"Todd is an exceptional retirement planning expert who truly has his clients' needs at heart. There's no one, comprehensive solution for everyone and he understands that. His careful efforts to fully learn of his clients' situation and then to move forward are very commendable," said Brent Meyer, President and co-founder of Safe Money Resource. "This steadfast dedication to each client's success and full education are core values that drive Safe Money Resource. It's a pleasure to have such an education-minded and client service-driven professional as part of our team."
On his website for Hammond Financial, Kiry offers access to free comprehensive resources about different financial vehicles for achieving retirement security. These include links to Safe Money Resource's free, information-filled guidebook on annuities as well as other free information and resources on attaining a guaranteed lifetime income.
Kiry's website can be found at: http://www.hammontonfinancial.com/. "Working together with a planning expert shouldn't be a process but a partnership. That's the approach that we take at Hammonton Financial," Kiry explained. "No matter where you're at in life, planning out your future shouldn't be a headache-inducing hassle or a stress-laden process. We want you to not only understand what's involved with any investment option at your disposal, but also to make the financial planning itself a calm and informational experience."
When discussing someone's finances, Kiry uses a macroeconomic financial model to illustrate how different options offer value. People have different goals at each stage of their life, whether they involve planning for a college education fund, having enough money for retirement, or even re-evaluating their current financial health. Kiry recognizes this and actively partners with each client to map out a financial plan that is customized to his or her unique needs.
Once a financial plan has been implemented, Kiry notes that his role in the client's financial journey does not end there. Annual or semi-annual reviews provide insights into how a financial plan is working out and whether any other action is needed. On top of this, Kiry makes himself readily available for offering in-depth, straightforward answers about any financial product or service.
Safe Money Resource itself offers a one-stop center for empowering investors to fully educate themselves about pressing topics relating to their financial lives. The website, SafeMoney.com features depthful, need-to-know information about many areas. Covered topics include annuities, life insurance, long-term care insurance, IRAs, Social Security benefits, and basic principles of retirement income planning and estate planning. There are also other helpful articles on different options for attaining a solid retirement income.
All of Safe Money Resource's free articles and complimentary guidebooks can be found by visiting: http://safemoney.com/.
"Please don't hesitate to contact our team with any questions. We are independent advisors and have relationships with several insurance carriers. Each financial product or service is vigorously researched, analyzed, and evaluated before any recommendation is made," continued Meyer. "We'll be happy to assist you however we can in enabling you to reach your retirement goals."