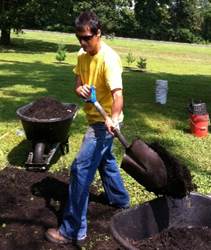 We have been looking for different ways that Pharmica could get involved with local community organizations.
Washington Crossing, PA (PRWEB) August 21, 2014
The employees of Pharmica Consulting met at Washington Crossing Historic Park in Washington Crossing, Pennsylvania on Thursday, August 7th to spend their day helping to maintain the park. "We have been looking for different ways that Pharmica could get involved with local community organizations," said Matt Kiernan, Partner with Pharmica Consulting. "When we heard that we could help preserve such a significant part of U.S. history, we jumped at the opportunity."
Pharmica spent their day tackling many landscaping projects that the park has not had the time or resources to complete. "With only a small staff to care for more than 50 buildings and nearly 500 acres at Washington Crossing Historic Park, it is essential for us to find community partners to help us carry out our mission of educating the public about Washington's famous crossing of the Delaware the night of December 25, 1776. We are pleased to have Pharmica Consulting as a new partner," said Joan D. Hauger, Historic Site Administrator for Washington Crossing. "After arriving at the work site on August 7th, Pharmica's volunteers immediately organized themselves into two efficient teams that completed their laborious tasks thoroughly and in short order. The time and materials Pharmica's employees generously donated will enable us to maintain a section of the Park to benefit the public for years to come. Thank you and all of Pharmica's volunteers and Gerry von Blohn for your generosity and hard work!"
Those interested in learning more about Pharmica Consulting and upcoming forums or service offerings can visit http://www.pharmicaconsulting.com/services/. To request additional information, please contact Greg Cohee at 215-579-1650 or Matt Kiernan at 610-945-4364.
About Pharmica Consulting:
Pharmica Consulting, one of the life sciences Industry's leading consulting firms, provides a variety of offerings designed to help pharmaceutical and biotech clients achieve true operational excellence. Consultants at Pharmica invest the time needed to truly understand a client's specific challenges and tailor solutions to help them create a more profitable business environment. Pharmica Consulting knows how to build effective strategies - and deliver against those strategies as promised.